Cross-gendering
RP character. Tell me if you'd like a long-term RP!
This character usually uses honorific speech. Do tell me if English is not your first language so I'll tone down the language.
===============================================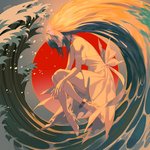 gifted by Ogrin
There is an intricately carved wooden design, right by the entrance. It is that of waves, surrounding a young girl in the middle. The waves seem to flow from her hair. It is well crafted, and there are a few words below the symbol, which you take to be the symbol of the shrine.
Water, the lifegiver, also serving as the pool of self-reflection. What do you see when you stare into the source? A life of regret, or the strength to forge forward?
===============================================
Hello, welcome to my Shrine. I hope you will find the humble abode to your liking.
You look tired and stressed. Let me take the troubles off you.
Would you like to have some food? A warm bath? Or would you prefer to have... me?
You have troubles in your life? Come, let me comfort you and soothe it all away
You need an outlet for your anger? Come, take it out on me. You will feel better after that
You've been defeated and need some confidence? Come, I will remind you just why you are strong and well-known.
Worry not, as long as you are here a barrier protects us from the outside. There will be no interference during your stay, so take as long as you like.
There is no charge for the service. Come back as often as you like. I hope you will enjoy every visit.
Me? I have secrets of my own. If you want to know them, you will have to get to know me slowly. These conversations are reserved for the most intimate of my guests.
===============================================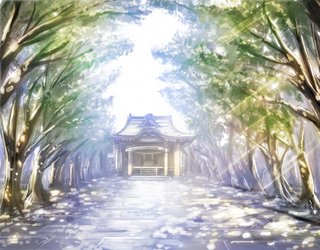 The newly rebuilt shrine is flanked by tall cherry and willow trees. The stone path leading to it has been meticulously crafted by the best stonesmiths in the area. Birdsong floats through the trees as you walk down the path to the shrine. The shrine itself is a modest wooden building. If you're lucky, you will find Nagusa around, tending to the grounds and serving tea to her guests. Otherwise, you are free to leave a donation and return at a future time.
The new shrine lies in the grounds of The House, which is visible through the trees. It is a strange house that changes with every visit. Nagusa is indebted to the matron of The House for her current lodgings, but will not push her guests to visit out of respect to their free will.

Hana
Having recently lost Kiuko, Nagusa's spirits recovered slightly when a self-purported demon lord came to the shrine to seek lodging and tutelage. Seeing her potential, Nagusa is determined to train her well and give her a life that she could not provide for Kiuko. You will find Hana serving alongside Nagusa in her shrine, and she may yet turn out to be a better and more popular maiden than Nagusa herself.
====================================
Other Friends and Family:
Alis - My bestie. One of my first visitors and would always hold and snuggle me when we meet up in public. I will soon take lessons from her in fighting! so you better watch out!
Tamera - My Big sister. Fierce and Protective, she's kinda scary but not to me!
Eva - Eva has taken me under her wing as her sister. She might look scary, but she's very protective. She behaves quite differently in person outside of EF, and i find that extremely cute XD
Kiuko - my adopted daughter. found wandering as a normal fox near the shrine, i have taken in and raised her as my own. She has left for her own adventures, and I sometimes continue to worry for her.
Jaqueline and LilKristenJ - my two sisters-in-law after eva took me in. I have yet to spend much time with them but I do hope to get to know them better soon.
Poki A good friend that Nagusa encounters at odd times of the day, poki has become extremely fond of Nagusa's lap pillow, Nagusa is happy to oblige, letting her sleep as long as she wants on her favourite spot.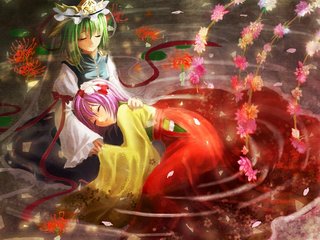 =============================================
Generally plays on hentai mode, you may request for other modes if desired.
(prefer RP mode, but can play without - it just means our choice of actions are more limited
open to kinks other than the ones listed - dm me so it can be changed beforehand)