well hello,
my good girlfriend (Juli aka Katha) told me about this erotic site, so i decided to make an account.
i played with her in irl a lot of competition, and now im here giggles
yes its me on the pfp, im not so shy like my friend Katha ;)
if you wanna see my whole body take a look here or my sexy legs
About me:
Name: Nadine
Age:25
High: 5,5
Weight: 58kg
Shoe size: 37
IRL action: body writing(marks),....
.
.
.
.
I watching porn for over 10 years, so i had many fantasies and fetishes.
I love porn sites like kink, ultimate surrender, the evolvedfights, fwr, defeatedxxx( what a site this is oh my =) ) and if somebody now this site shg-media :) ...
you know fetish-island.com ? yeah ! then write me =)
Thats where the most fetish come from.
I love the back and forth action in movies and in the games.
Dont go easy on me, i like and do it rough, hard and painful.
Im down to bets and rules.
I dont like ageplay and mommy daddy issues. thats weird for me sorry about that ;)
Maybe i write more about me when i lose a bet or something else
Im also fine with adding a name to my mainname
My look and outfits for
LWR
TWR
Classic
Maybe you like to see me in chastity decives
Or
My try to be a superheroine
Let me now from which outfit u will get beaten or get i beat? Find it out ef friends
Rules
Until you win.lets say, 3 games, you can only play a cumtest against you opponent if you edge first
(for each test) (0/3)
permanent rules
after i lost to Katha i got 2 new permanent rules :
if i get the TapOut Option i have to do this
If you Cuntbust or slapped my Pussy/Cunt/Ass or tits, i roll a d6. Is the number 4 or less, you decide my next turns according to the number i rolled.
When your arousal is already at 100 but you receive an action increasing arousal. It does not go more than 100. But what it would have added is the overflow. Like if you are on 99 and get 5 arousal, your arousal gets to 100 and 4 is overflow. Whenever you have such overflow, you must roll a D6 against it. In this case if you roll 1-4 you must skip, if you roll 5,6 you play as normal - from Lepicard
Matches
After a crucial lost against Alice Rose, she made me during our matches tapping under her fantastic superior pussy the first time, then i was close to turn the tables and make her a massiv orgasm. But she made me tap out again with taunting me in a scissor move. Then she broked me with one minute of fucking my tight ass and made me bark to my submission. She double the effect and making me an unbelieveble assgasm. Now im her pet and she made me her pony for long as she wants!!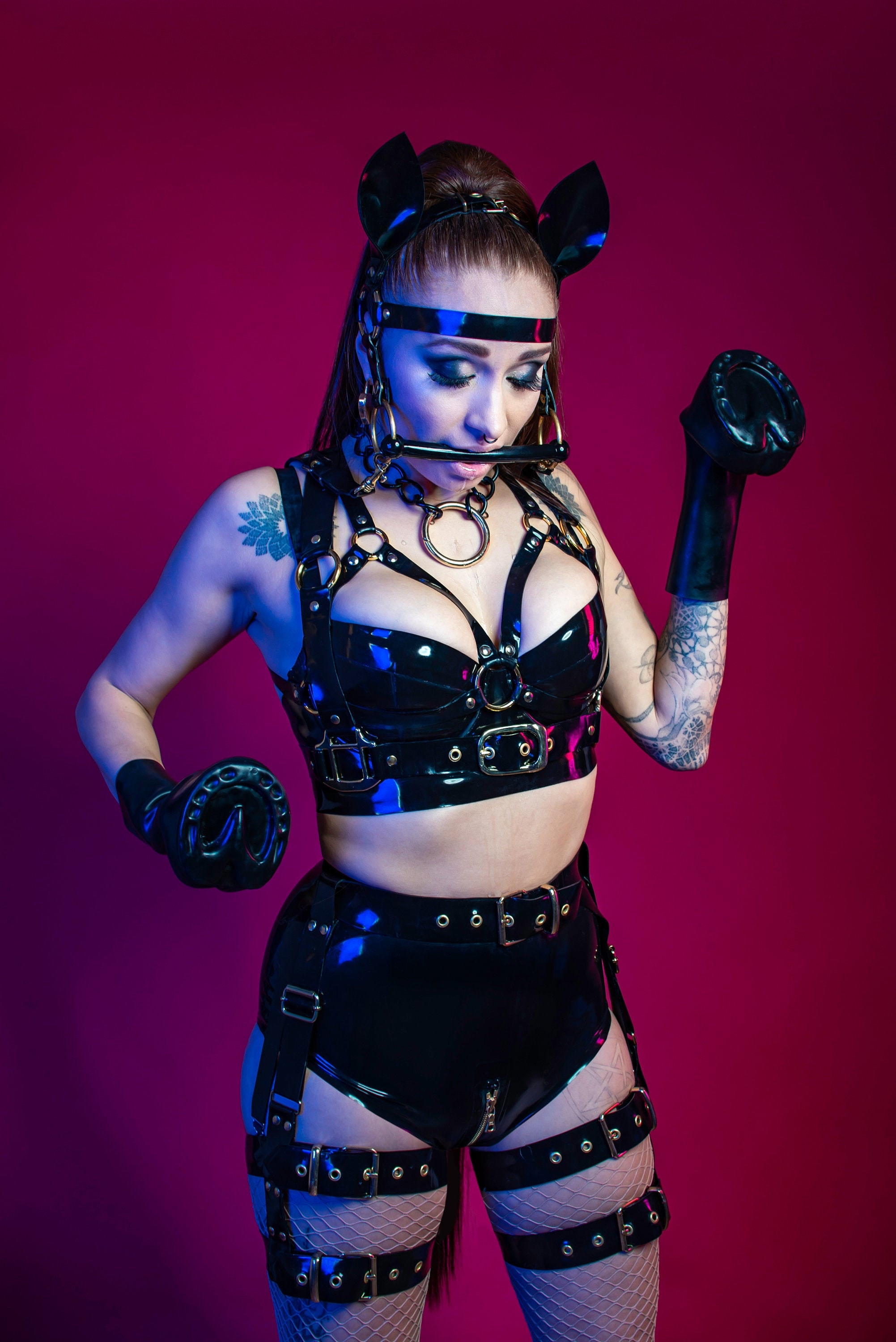 Dragon Lily: i get her humiliated in the first match! But she was able to beat me in our rematch hard. Till we have our 3rd match im her ringslut!
Lepicard finally defeated and break me in TWR. He spank all of my body during our 2 games. Then he used is friends to melt down my mind. He put me into an anal full nelson, what's lead in totally and permanet surrendering to him! Im yours now! and forever. He collared me and marked me!
As long as he wants im his slut!! i have to call im master !
Meggy teased me via dm and then we played a classic game, she get the upper hand by tagteaming me more then once ... in the end her strap on make me cum so hard that her strap pumped cum in my face
Darina give me a nice rule:
If my energy is zero, i have to roll a d6
5-6 i can go on
2-4 i must skip
1 i must please to get tied up. Can only escape then when i roll higher then my pleasure level. (d100) 3/3 rule will erase when i get 3 wins with this rule.
After a second fight with her i was able to close this rule with comeback win in the ring by using my fingers in her pussy first and then she showed her truth by cumming from my fingers in her butthole.
Simon4u:
after a bit of a struggle switchy Simon4u gave me a pretty buttplug to get me excited, filled me, made me orgasm hard while making faces and in the end squirted for him, I am now his. Simon4u owned me!!
This little girl dm me for a fight, called FuckToyJasmineAnalWhore, i thought it will be an easy win for the day. But she took control over me, making me tapping out 3x times and after she fingered me to orgasm, she tooked her big strap and fucked me senseless.
Jamie Valentine picked me out of mm. after some nice trash talk we start our fight. She used my special move, german suplex, against me and i had to tap out the first time. As penalty she took my tight little german butthole. After some back and forth action, she made me tap out twice, she used her superior feet on my cunt to make me cum. After the game she used my butthole for more humiliation.
Ace:
I was waiting for a match in the ring when Ace showed up. We talked smack back and forth for a bit before we both went down to the mat for a long 69 session. His tongue won out and I came all over his face. He then went on to fuck my pussy. I tried to gain the upper hand but I was already tired from the last orgasm. He buried his tongue in me again and forced another, bigger orgasm from me. I knew I had to act fast so I took advantage of his low stamina and made him cum inside my pussy. Sadly, I ran out of energy after that and Ace knew it. He forced his big, thick cock into my ass and made it his. He found a weak spot and exploited it, pounding my tight hole till I couldn't take it anymore and came one final time. I gave him my holes and he came so much in my ass that it will drip down my sexy legs for hours
Mario fingered and rubbed me in the ring hard enough to win by pinning me down !
After the game im now his bitch!
The little english girl Jenna looks like an easy match for me, but im totally wrong, i cant handle Jenna, first she used all of my holes soon in the game, then she fucked my ass like this or this makes me cum with a huge strap in my ass, then she broke my will to fight back with this nightmare machine. Jenna had no mercy with me and spanked my german ass till i cum so hard and put me in this machine.
After a strong and intense match vs Babygirl (1:0) i was able to finish her off with my fingers, she squirtet my mat really wet. I took her away to the classic room, where we have soon our rematch.