Welcome to my profile. I'm a 25 year old straight man with an insatiable sex drive.
I'm a switch, but I love competition so if you want any chance at dominating me, you'll have to earn it. Love detailed, competitive matches, either classic or wrestling.
When I'm not sex fighting, I'm in the gym getting stronger so that I can fuck you into oblivion ;)
Warden #0-0-1-C.93-53.WR.8-9.I.2 of the Asylum. On the hunt for cuties to add to our collection ;)
===========================================================
Weaknesses
Since you decided to read up on my profile, I'll let you in on a little secret. I absolutely love eating both pussy and ass. So if you sit on my face... well... there's a chance I might not fight back and just let you use my tongue like your own personal toy (I need to roll a 5/6). Just make sure to soak my face when you cum ;)
After failing to make Mistress Chantal cum even once, she locked my cock in chastity. For the next 5 matches, once my cock is exposed, my opponent will find me in my chastity cage and I cannot use my cock until I roll a 6. (5/5)
As Mistress Rachel's butt slut, whenever someone fucks my ass, I must roll 1d6. Anything 4 and under, I skip. (15/ 15 wins)
After my humiliating loss to Queen Mary, my pathetic cock cannot withstand the grip of a wet pussy. Any cum action where my cock is inside a pussy, I must cum. (5 / 5 games)
Celine noticed my addiction for eating out and gave me a new rule to go along with it. For the next 3 matches, I must choose pussy or ass eating actions when possible. (3/3)
After losing to Lisa, I must select actions which involve a girl's ass for 3 matches (1/3)
After losing to Amazon Tamara, my facesitting weakness became worse. Now I fall under complete hypnosis and must roll a 5 or 6 to wake up. This can be cleared with 3 wins (0/3).
After losing to the sexy Kendra, I must choose any ass or pussy eating action that comes up. This can be cleared after 3 wins (2/3) or 5 matches (5/5).
After losing to the Amazon Tamara, she locked me in chastity and I must now begin every game in chastity until I win 3 matches. I must roll every turn to try and break off, only 6 does it. Until I break free I can't use my cock (3/3).
Frikka's edge slave: I must edge one time or every dice roll I fail due to my other active rules in 5 games of my choosing. 5/5. If I accidentally cum in game the counter get set back to 0.
After losing to Karoline in a close wrestling match, I now have an anal weakness. If anything is put in my ass, i must roll. Below a 5 and I have to skip and beg for more like a good ass-slut. Weakness is cleared after 3 wins (3/3).
My match with Shyla introduced me to the most amazing pair of tits I've ever seen. Though I bested her in our first match, she milked me dry in our second. As punishment, I now have a big tits weakness for 5 games (5/5). Any time tits are used to tease or please me, I must roll and anything under 5, I have to skip.
============================================================
Notable Losses
I met this gorgeous mistress Rachel while destroying another slut in an easy classic match. Despite my domination in the ring, she kept heckling from the sidelines about how pathetic my cock was. I couldn't stand it, so I took the bait and decided to fight her in a wrestling match. The match was quite close from the get go. Both of us exchanging shots until I had her pinned back and on the edge, so close to cumming her mind out. Despite being almost guaranteed to cum, she resisted like a champ. This was the beginning of my downfall as she reversed it on me and started fucking me senseless. She worked my cock and tongue perfectly, making me tap out multiple times before finally finishing me off between her thighs. I licked her thighs clean and then proceeded to have my ass fucked by her and her lovely friend. I am now her obedient butt slut.

---
I saw this new nympho lurking around on EF and figured she'd be an easy fuck that I could turn into my toy. After quite a bit of bantering, we got at it in the ring. She was fucking hot and knew what she was doing. She was so good that she made me look like a complete virgin. The first moment that she slipped my cock into your wet pussy, I came instantly after just 3 pumps... I managed to get her back with my skilled tongue, making her cum on my face, but she knew I couldn't handle her. She pulled me back inside her, where I came instantly, again unable to handle her amazing cunt. My cock is now her toy and I am her bitch, tasked with cleaning her delicious pussy

I have now challenged this goddess 3 times... All three times I've ended up on my back completely drained. Needless to say, her body is my kryptonite. I am no match for her, but deep down we both know I love being used by her. In our most recent match, I made sure to give her an amazing, standing orgasm, but in the end my cock was no match for her. She expertly rode me to my first orgasm, making me fill her up before subsequently humiliating me between her thighs...

---
I'm slowly being broken further and further... I challenged the gorgeous Queen Mary thinking I could easily take a win against this self-proclaimed sub. I nearly had her, but her pussy was just too resilient. She managed to peg an orgasm out of me before draining the second with her cunt. I am not her fuck toy whenever she pleases.

---
Hearing about my new arrival to EF, Danger Blank wished to introduce me to the world of sex fighting. She's a cute little slut with an insatiable desire. Right from the very start, I made sure to use that pretty little throat of her, degrading her in front of the whole audience. She was being used and loving every moment of it. Her cum overdrive was soon through the roof and I believed I had it in the bag. She spread her legs like a good little slut and I began to fuck that tight pussy... but it was a trap. I lost track of my desire and I came prematurely, spraying her with my cum. I wasn't going to stop there though, I continued fucking that slut and made her squirt hard all over my cock, leveling the score. It was too little, too late though. With my desire so high, she went for the kill. She hopped on my cock and rode me like I've never experienced before. In no time I was cumming hard inside her as she controlled me entirely. Amazing...

---
When I first saw this German Goddess Celine, I tried to reach out, but she immediately shut me down. Not taking lightly to her rejection, I challenged her to show her just how easily I could make her submit. After a little back and forth, I managed to bend her over and drill into her ass, quickly sending her to an intense quivering orgasm. I had this match in the bag. Then the onslaught began. She tried making me cum three times in a row, which I resisted every time, but it exhausted me. She then proceeded to tie me up with a cock ring and vibed my cock to a ruined orgasm. We then proceeded to fuck like animals, driving each other to the edge, both about to explode at any moment. I was so close to making her cum for me, but just before I got the chance, she pounced onto me and rode me like a champ. She milked my cock dry into her tight cunt, making me explode hard. She wanted nothing to do with my cum though, so she proceeded to straddle my face, opened my mouth and made me eat her cum-filled pussy until she was all clean again...

After some time to reflect on this fight, I decided to challenge her again. I saw that she was made a blank girl and figured I could use her broken state to my advantage and fuck her senseless. Boy was I wrong. Though I had her hypnotized and bound for much of the beginning of the match, she quickly regained control. She withstood my onslaughts as I tried to make her cum again and again, but no luck on my end. Instead, she mercilessly teased my cock. This hottie was too much for me to handle as I came so hard for her twice, completely submitting to her. Now she barely cares for my cock, but rather enjoys using my face as her new throne...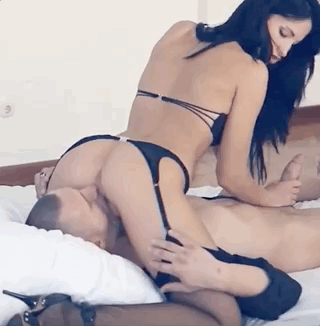 I thought that third time would be the charm as I challenged this German goddess yet again... It seems like I never learn my lesson as Celine once again proved to be much too good for me. She could control my cock like a champ, making me fall for her incredible body. She rode my cock better than anyone has before, making me cum inside her hard, nearly knocking me out. I immediately found her straddling my face, making me clean up my mess, to which I happily obliged. She then proceeded to break me by draining my cock once again... My cock is clearly no match for her.
---
I challenged Lauren thinking I could tame her cocky, swimmer attitude. We had a rough back and forth, but her stamina was incredible. She resisted my attempts to make her cum again and again til she rode my cock to a huge creampie. It got her super horny though as I was soon able to go down on her to make her cum hard on my tongue. My attempts were far too little however as she took over the rest of the match. She rode me like a champ, never giving my cock rest until I exploded a second time inside her. Clearly my cock is no match for this swimmer goddess. Now she just humiliates my cock whenever she likes...
---
Another loss... This time at the hands of Bente. When I first saw her, I figured she's just another dumb blonde that had no idea how to properly handle a man. I pulled ahead to an early lead before bending her over and fucking her to a squirting orgasm. I thought I was way ahead, but she was just toying with me, using me for her own pleasure before finishing me off. Turns out she wanted me to fuck her to that orgasm, because immediately after, she rode my cock to back to back orgasms. She emptied my balls deep into her cunt, breaking me and leaving me. It became apparent that I'm clearly no use to this goddess. As she said, my cock is pathetic and she needs a real man to fuck her. She then locked my cock up and makes me watch on a daily basis as she gets fucked by other guys...
---
I was edged crazy by Frikka after I lost a battle in the classic ring. She made me beg over and over for my orgasm and only let me cum after i edged so much i lost count. As I finaly got my relief I shot my cum all over my body.
[For her mercy i will address her as mistress from now on.](
)
---
When I first saw Amazon Tamara, she was so sexy that I just had to challenge her. I figured I could fuck her senseless and make her my slut, but I quickly regretted that as she repeatedly hypnotized me and bound me, making me her helpless toy. She humiliated me, making me cum twice while bound and though I got to fuck her to an orgasm once, she was just too much for me. Now she keeps me locked away in her room, constantly in chastity. She no longer lets me fuck her, but she teases my cock daily.
I challenged this Amazon to a rematch, hoping to get my revenge. The match was quite close early on and I even pulled ahead, but she mastered my weaknesses. She made sure to ride my face as often as she could, making me taste her dripping wet cunt. Fuck I loved eating her out. The match came down to the wire, both of us nearly about to explode when she took my cock deep down her throat, making me cum so hard that I passed out. When I woke up, she was straddling my face again, putting me in my place as her new personal toy...
---
I had already beaten the lovely Ellika twice before and figured I could easily fuck her ass into submission once again. Unfortunately for me, she was craving revenge in our third match. It was a hot back and forth match early on, but my cock betrayed me as I came prematurely. I made sure to get her back though as I quickly fucked her ass into a ruined orgasm, but Ellika had the last laugh. She soon after tied me up and went to town on my balls, literally punching the cum out of me until I was begging for mercy...

---
I took one look at Kendra's ass and knew in an instant that I had to fight her. All I wanted was to break her and turn her into my personal toy. The match was quite close for a while, going back and forth. She withstood a number of my onslaughts before draining an orgasm out of me. I quickly had her though, fucking her to a powerful orgasm, but in the end she was too talented. She got on top of me and used that talented tongue to drain my balls, making me cum so hard that I passed out. When I woke up, I was in chastity. She no longer lets me fuck her, but instead I worship her ass on a daily basis...

---
As always, I got a little cocky when I saw this new girl Rose. She was such a cutie and I figured I could add her to my collection of sluts. After some trash talk, we decided to go at it. At first I thought I had it in the bag, making her cum hard first. She quickly responded by riding me to a great orgasm, but she was already close to her second that I didn't think it mattered. I then put her on her back and began to fuck her, but she just looked up at me with her amazing eyes and begged me to cum inside her. How could I possibly resist? My mind broke and I obeyed, filling up this wonderful goddess...

---
My latest humiliation came at the hands of the goregous veteran Isabelle. After some early foreplay, we didn't hold back from each other. Giving it our all, we were both quickly aching for each other's bodies. I managed to pin to beautiful red head and fuck her to a gushing squirting orgasm, making her body rock hard. I figured I had the match in the bag as she came so early, but that's when she turned up the intensity. I first feel victim to her incredible oral skills, sucking me off from a bridge position. I had barely recovered before I found her between my legs, pumping my cock between her tits. She commanded me to cum and I obliged, shooting a second massive load all over her face. She then proceeded to push me onto my back and straddled my face, claiming me as her new personal toy.