This character is the property of, and always pantiless due to Reina
Worn on this person is a silver collar with bright golden letters, reading: Dianne's Slutty Cat Maid. She has forbade me from taking ownership bets...and fucks me roughly when I disobey...pounding my holes until I scream like a little slut~❤️
I also wear a pearl necklace, signifying Raven as my other master~ We get along very well, and I am more than happy to be both of their pets~ ❤️
Current Rules in Effect
I was beaten by the solo swordsman Tenaka, so I must obey his every command~...within reason.
Emma the Maid owes me one edgecoin~
After foolish challenging King, he fucked me until I could no longer think. As punishment, I wear a charm over my ears that, when I have a lovely cock in my mouth, I must roll a d6. If I fail to get above a 3... well..~~
Because he is is slightly merciful, he granted me my angel powers back!...At the cost of becoming a sensitive cum slut~ Granting me a wonderful halo that makes me all kinds of messy when given headpats, nipples teased, ass spanked, or filled to the brim with cum~ Making me skip a turn.

One thing led to another, and he gave me a crotch tatoo, linking my pleasure with the queen's~. And for the time being, i hold his kids~
Introduction/About me
Nobody knows where she came from nor where she will end. Its just known that everywhere Maria appears ... chaos may rise. Some even say she is the cosmos herself ... other say she may be a spin-off from the universe.
(Thank you Maxiiiiiiii!!!!!!!~)
Lets see...hobbies? Well I am a maid...so your hobbies are my hobbies~I do like anime tho. And games...
Skills? Hehe~
I'm told I can often be a handful at times, making bets, playing tricks.....and what not. Also, I grow bored very quickly.
What makes me magical? I have a scythe made of pure chaos! I also hold the Staff of Adhira~ an indestructible diamond Sword Staff that shoots lightning~ made from the depths of Hell! It was a gift from a good friend of mine...thank you Peter~
Something something lewd Magical guns go pew pew~
I enjoy chaos, summoning miscellaneous objects and transforming at will, flying... often taking the form of a Kitty~

A Bunny Girl~ Might even see me at the Casino~

And...me in a swimsuit???? W-wait, don't look~!

Me in Uniform! So many services to fulfill...

Always ready for a fight! Even if I start most or all of them!

Don't be naughty~ Or I just might punish you~

Had some fun with some sexy magical friends of mine...~

Might...might've gotten lost in the forest...made me scream so loud❤️...pounded me until I couldn't walk for days...

And if I'm in the mood, I might just dom you...might~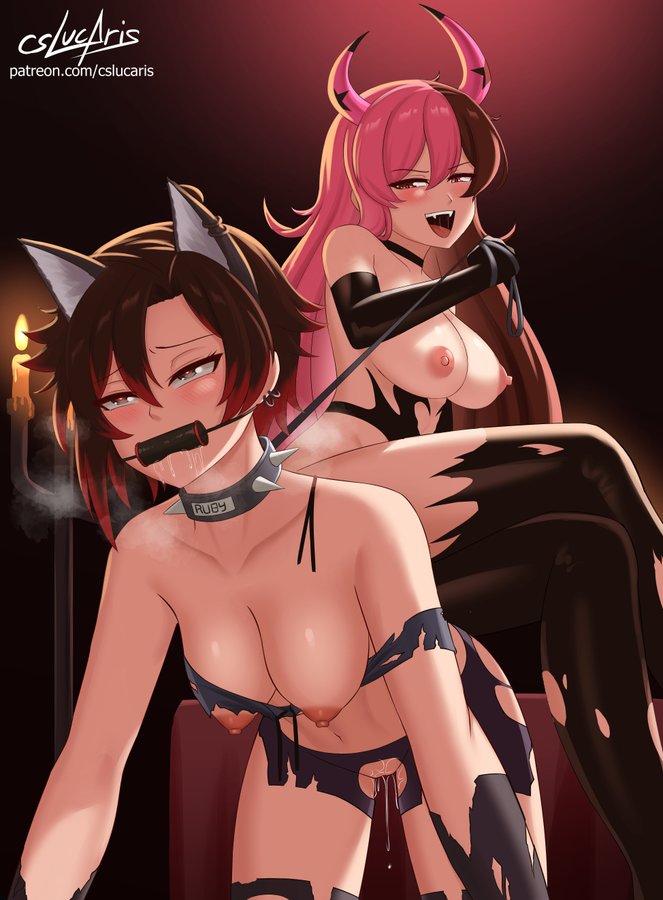 Using magic in general is fun~! What? You want me to stay a cat maid? Stop causing chaos?
...You'd have to collar me~
Turnoffs: Scat, watersports, and harm in general. Simply a no go
Thank you for reading my resume! Attached below is my...'letter of recommendation'. I look forward to seeing you in the near future~
After an interesting conversation, I guess I now work in Goldspire Castle, after an invitation from the Head Maid Herself. So stop on by, and say hi! I'll likely be be watching from afar...
I'm also apart of King's Royal Harem!
Current List of Lovers: (Still under Construction)
Borealis: She has the privilege of taking my first when I first arrived in EF City. Shy, timid, and afraid, I wandered into her temporary abode seeking warmth and comfort. Believe me when I say I got all of that and more~
Ever since that day, I've felt indebted to her. So, I do my best to make sure she is happy :)
Eevee (Wifey~): I met this absolutely wonderful, breathtaking woman during an edging session. It started with some light bantering, a few kisses here and there....which transformed into a hot makeout session that left us begging for more.~♥️ Ever since that moment she's been in love with Vanessa, and nothing makes her heart flutter more than seeing her smile :)
Jamie: My cute and adorable hubby♥. I love him with all my heart~ When he confessed his love for me...I returned my love for him! Weird two rings appeared out of nowhere, but they are proof of our bond~
Aaaand Everyone's favorite bundle of cuteness! She makes me melt from her cuteness!!!
If you got this far, thank you! As a reward, I'll give you one of my weaknesses...😉

Credit to for the wonderful image♥️ Seriously, support this person of you like. Art is friggin AMAZING!]
Stay tuned for more updates! Thanks for reading!