Did I catch you staring ?
If I did, you owe me 10 spanks 😉for every 5 seconds you spent staring at me.
(All spanks are to be completed on one cheek for everything on the profile )
You kept scrolling huh.... Naughty little thing.
In this next picture admit what catches your attention first
.
.
.
.
.
.
.
You ready ?
.
.
.
.
.
.
If the first thing you saw was my feet/heels
Give yourself 20 spanks
If the strap-on caught your gaze first
15 spanks
If the tools of the trade caught your attention
First off BOOOOO. Second 10 spanks
Bonus spanks * 5 spanks per 5 seconds staring.
.
.
.
.
.
.
.
.
Did you keep scrolling after All those spanks...
.
.
.
.
.
.
Now get down on your knees
.
.
.
.
.
.
And give me 10 more spanks as a thank you 😘
*Bonus spanks if possible perform 10 more spanks thanking me out loud.


.
.
If you decide to take the time to message me.
The first thing in your message must be your spank total, or I will ignore your message.
.
.
.
.
If you are a worthless little toy who wishes to be a caged little toy
You may click the link
Clicking the link means you do 50 spanks
So choose wisely
Only click if you are into chastity
💙Prove yourself as a spank slut💙 - the true challenge for all you spank fans out there. If you played along properly you should have one glowing stinging cheek. It seems a little unfair to leave you so unbalanced. Perform your spank total on the other cheek now~
Total spanks served : (one day when I find some time I'll do some math )
---
Only proceed further down my profile if you are into edging. To play the following section find yourself a 6 sided dice (or roll one online ) any edge order is to be multiplied by your result.
For those of you edging with another person I present the Eva and Benji rule - the person to finish their edges per section gets to roll a d20
The person who completes their edges first spanks themselves that many times
The person who was slower receives that many extra edges to be completed before moving to the next picture
---
I'd like to introduce you all to my favorite little house pet, her name is Adriana.
Start teasing yourself
.
.
.
.
.
.
.
.


Doesn't she just look adorable in her little collar and leash ????
2 edges x your multiplier to be completed before you scroll any further.

.
.
.
.
.
.
.
.
.
.
.
.
.
She always greats me when I enter.....
Often bringing me some very fun things to play with
2 edges x your multiplier before you scroll any further.


.
.
.
.
.
.
.
.
.
.
.
.
.
.
And god do I love spanking her lovely ass, not to mention some other things. All those lovely bruises and marks left behind.
3 edges x your multiplier before you scroll any further


.
.
.
.
.
.
.
Did I mention she loves knowing you are getting yourself all worked up for her. Knowing that she's the object of all your dirty thoughts.
.
.
.
.
.
.
.
.
What would you do to her if you found her sprawled out in your bed....her cute feet on display, while her legs are parted inviting you in.
4 edges x your multiplier before you scroll any further.


.
.
.
.
.
.
.
.
.
.
Still scrolling down you little edge slut, is it starting to mess with your head yet.... Begging for release ?
.
.
.
.
.
.
.
.


If the sign on the wall was what caught your attention
1 edge x your multiplier
If her wonderful feet was what caught your attention
3 edges x your multiplier
If her magnificent, very spankable ass was what caught your attention
5 edges x your multiplier
(Complete edges before proceeding, if you wish to scroll forward you have been warned some pegging content is coming your way )
.
.
.
.
.
.
.
.
.
.
.
.
.
.
But don't think that my little pet doesn't have claws, I've been teaching her a thing or two, and even bought her a nice strap-on in her favorite color.


Get on your knees and preform 5 edges x your multiplier
.
.
.
.
.
.
.
.
.
.
.
.
.
Such a good little edge slut, you kept scrolling.
In that case. Let me show you Adriana's favorite strap-on, I even let her use it on me on occasion
Roll your dice twice and multiply the result together for amount of edges


.
.
.
.
.
.
.
.
.
She's really learned how to use that strap-on well
.
.
.
.
.
.
.
I've even let her take on some of her own pets.
.
.
.
.
.
It's so damn hot watching her make a mess out of her little playthings as she pounds their asses and makes them make a huge mess.
6 edges x multiplier


.
.
.
.
.
.
.
.
.
.
.
.
.
And on very special occasions....
.
.
.
.
.
.
I even come by to watch and guide her training.
.
.
.
.
.
.
.
Or even take part
10 edges
(May multiply by dice for the real edge sluts out there )


.
.
.
.
.
.
.
.
.
.
After all that you kept stroking huh.
.
.
.
.
.
.
.
Call me a little impressed.
Are you ready to give into us ?
Stroking and teasing and working yourself up into a little frenzy.
.
.
.
.
.
.
Grab your phone or some other device with a stop clock.
.
.
.
.
Set it to 30 seconds.
.
.
.
.
.
Stare at the the next picture while you work yourself as hard as you can.
.
.
.
.
.
.
If you can achieve orgasm in that time frame you are free to orgasm your little subby brains out for us.
If the timer goes off before you finish.... Well hands off and stop touching. There's always another day to try our challenge .

Enjoy my little playthings 💙😘💙
Top successful completion - Green Velcro - 400
(To challenge the current holder, edges must be preformed in front of me in a public game )
For those of you who tried and failed you can always spend the night at my place, Although you might find yourself a little "contained". Welcome to my no touchie cage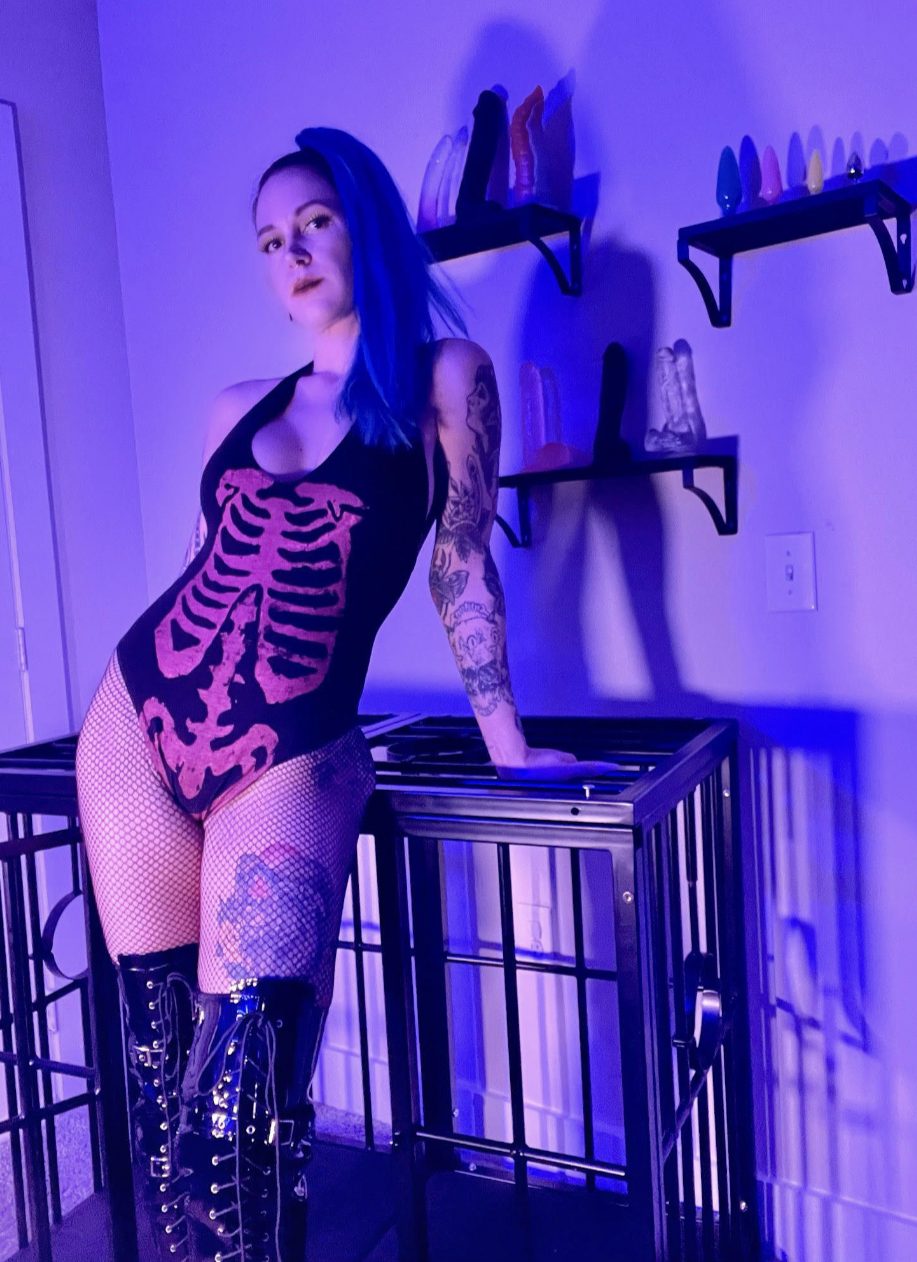 Green Velcro: My Pet Slut
Edgeslut~ record holder~ 400 edges!
What a good little edgeslut and spankslut I have! Vanessa has been such a good girl for me ever since I first came to the site. Doing spanks for me like a submissive on her knees~ making her ass red. Then she decided to take on my edging challenge!
What I saw made me want to tease the good girl so badly~ but I held off until I know her mind had completely melted away in submission. As she edged over and over~ she only could think about and see me and my pet~ wanting to become one herself. At the end I couldn't help but place her in a collar and tease her. A blue leather collar reading "Good Girl." Vanessa loved it so much and she now wears it wherever she goes~ to remind her of the day she became my pet to have fun with and to control.
As I fucked her relentlessly with my strapon~ and put my foot over her head as she worshipped me~ I knew she was mine. Her body uncontrollably shaking and her pussy getting the best pleasure she ever received~ my little green haired pet was born. What a good girl she is~ and she is all mine! Like a proper submissive pet slut! 💚💙 I cherish Vanessa and she makes me so happy knowing that she enjoys spending time with me.
For those of you looking for an extra challenge.....greenie and I have a little extra fun for you