Please read at least the "About Me" and "Playstyle" sections before joining me in MM!
Disclaimer
This is a cross-gendering character (cis-male playing as trans-female). Formerly known as Anton, Alice fed me a strange pill, letting me grow a nice pair of boobs and a round smackable ass, craving for it to be filled with loads and loads of sticky cum.
---
About Me
German/English
A feisty 5'10 latina with D cup sized breasts, a 6.5 inch cock and a bitchy attitude to round it up!
Measurements: 36 - 24 - 32
Affected to sex fights, competition, challenges and always up for some good old trash talk (bonus points, if you know some german dirty talk 😉). I'm here because I like to have a good time and explore myself, also willing to try some new kinks out. I prefer back and forth matches with both players trying to dominate each other. That being said, if you are only looking for someone to dom you, I might not be the right one for this job as I rarely dom others and if it's mostly with people I got familiar with or as a result of a bet that was placed beforehand. So please don't just send me dm's like "hi mistess" or "hey can you dom me?". I will probably just delete these right away.
---
Playstyle
First things first: the most important thing is, that both of us are having a good time so please be clear about what you want and if I might be going too far on some points. Communication is key 😊 I will always play competitive and rarely longer than 1-2 hours, including small rp mixed with some trash talk and power exchange. However, I also enjoy doing only some dirty talk or plain chatting if we are short in time. Always playing as a switch, fighting for dominance and trying to take control over my opponent until submission. And to add a little thrill to the game, bets or rng elements (dice/coin/cards) are highly appreciated. The higher the stakes, the more fun they are! I found myself here to be a little gambling addict.
---
Rules
Bets:
Open for pretty much anything such as profile change, irl task or a new rule to apply to upcoming matches (or maybe you got something else in your mind).
Bondage/Hypnosis: the receiver will roll a dice6 and resist on 5 or 6 but has to skip turns on a 4 or lower. Goes for a maximum 3 turns after which the victim is free again. Alternatively, there is no turn limit and the victim won't be free until a 5 or 6 is rolled. Hypno and bondage can be combined with each other, where hypno will always be rolled first and bondage will only be rolled, if the victim broke free from hypno. Mesmerized sluts do not struggle after all! Both types of action do not stack on themselves. Instead, a new bondage/hypno action, while the victim is still under control, will reset the timer to 3 new turns.
Cute Cum Collector (by Alice) : I have to play as a trans girl until I collected 10 loads of cum inside my ass. (6/10)
Hands-free Fun (by Izzy): I must not touch myself (IRL) during the next five games. (5/5)
Cock-Craving (by Femboy Nea): I have to suck cock whenever I get the chance to do it (5/5).
Self-Control (by Shy-girl): I have to stroke a certain number of times, whenever a specific action is used on me:
Handjob – 25; Blowjob – 50; Pussy – 100; Ass – 150; have to announce edges and forfeit if I cum irl. Until I win 5 matches (5/5).
Gooner (by Nicoletta): No cumming for two days and edging twice per day for 10 minutes each.
Spit-Roasted Servant (by Trixx Maya): changed my profile picture and made me her slave for 24 h. I need to challenge other girls and try to dom them. If I succeed, I need to sent them to her, but if I lose, I have to submit myself completely for the winner for another 24 h. Goes until I beat her in a match.
Blowjob-Sensitivity (by rd2plz): whenever my opponent blows me for a cum test, I have to give in and choose to cum. For 3 matches (3/3)
Foot Rest (by Annie): change my name into "Anton - Annie's Foot Slave". For 5 matches (5/5)
Chastity Struggle (by rd2plz): I need to roll a 6 to free my cock from its cage before using it, if not I need to skip. For 7 matches (7/7)
Vines of Lust (by Rose): every time I receive a tag move, I have to skip my turn. For 4 wrestling matches. Doubled by Alexis. (8/8)
Chastity (by Bente): she locked my dick away, holding the key until I win 5 matches. (5/5)
Foot Slave (by Annie): change my name into "Antonella (Annie's Foot Slave)", again. For 5 matches (5/5)
Blissfull Mess (by Lina): my next 5 irl orgasms have to go inside my pants. (5/5)
Submissive Slave (by Alex): a daily profile change and irl task for the duration of one week. Until 9th March (7/7).
3rd March: 200 edges without cumming (54/200, failed), name changed to "Antonella (Alex' pet)"
Anal Infatuation (by Capricorn): for every anal action that is played (giving or using), I must roll 5/6 (dice6) as my mind will become broken and I will have to skip my turn. This can last up to 10 straight turns. Until I beat her -> Changed to 5 more matches. (5/5)
Masturbation Addict (by Capricorn): I always have to play masturbation actions, whenever I get one. Until I beat her -> Changed to 5 more matches. (5/5)
Pfp (by Chantal): change my profile picture. For 5 matches. (5/5)
Sissification (by Bente): I have to play as a trans-girl until I win 10 matches. (10/10)
Sensitive Back Door (by Samantha): everytime my ass is being teased, I have to roll a dice and skip on a 1. For 3 matches. (3/3).
Naughty Edger (by Riley Black): I have to deliver 10 edges. (10/10)
Bimbofication (by Riley Black): boobs upgraded, lips pumped, hair dyed to platinum blonde and permanent heavy make-up added. Each of these assets can be removed by a win. (4/4)
---
Aubergine 69
Waiter/Mercenary Classic Fighter at the Aubergine 69 bistro day/night-life brothel.
---
Kinks
Power Exchange
Femdom
Humiliation
Edging
Pegging
Pain (CBT)
Cunnilingus/Rimming
Dislikes and Limits
Rape
Incest
Age play
Scat, Blood, etc.
Want to know more details? Check out my kinklist.
---
Wall of Fame
Trixx Maya
I was challenged for a match and offered a bet: profile change and full submission for one day for the loser. I agreed, looking forward to making her my pet for the next 24 h :) I started undressing her, but she went straight for my dick and stunned me with two oral actions in a row, once by warming up my balls with her skilled tongue and teaming up with a friend, making me unable to resist their teasing. I fought back by teasing her pussy and ass, spanking her butt until it turned red, but again, she was able to leave me paralyzed with her mouth on my dick and her finger in my ass. After some back and forth teasing and failed bondage attempts by each of us, she restrained me and got on top on me, riding my dick until I couldn't hold it anymore and came inside her. She left me trapped and teased me for several rounds, until I was begging her to let me free but she only laughed, mocked me and brought her friend again to spit roast me with her. I finally broke free and let my tongue swirl around her pussy until she was moaning from all the pleasure with her eyes rolling to the back of her head. But neither did she lose any time to put her skilled mouth on my dick again leaving me helpless again. She saw her chance to finish this off, climbed on me and milked out whatever was still left in my balls with her tight ass, smiling as she told me, that she claimed me as her slave for the next 24 hours. As a proof for her victory, she changed my profile picture to show everyone my place and put me on display in a public match.

Diva
In an intense IRL session, teasing each other almost mindlessly, she managed to make me cum twice, even though I was able to make use of her weaknesses. After I seduced her into cumming IRL, she put me on all fours and punished my sore balls from behind with her boots. She then made me edge until I was begging her to let me cum and eventually, made me milk myself on the floor, cleaning up all my cum with my mouth afterwards.

Raven
First, she made use of my sensitive cock and slapped it all over, making me squirm before her. I tried to tie her up but as soon as she freed herself she turned the tables, trapped me down and made use of my cock and ass. I changed my strategy and hypnotized her to submit to my cock, but she resisted and took advantage of me, pinning me down and trampled my dick with her feet to a painful first orgasm. In turn I went straight for her dick, taking it all the way down my mouth and made her shoot her load down my throat. After some more cbt and teasing me with her ass I had been craving all the time already, she jumped right onto me, breasts all over my face, riding my cock to another orgasm, creampieing her ass. As a punishment for all of my smack talking during the match, she then pulled out a chastity cage, locking up my dripping and aching cock for 48 hours.

Kat Fisherman
That dirty cum slut managed to drain my cock and balls and made me shoot twice my load on her face in front of a big audience. She had the opportunity to make me her slave for 24 hours but she didn't.. I think she just wanted my cum and to please her Queen.

rd2plz
After she locked up my cock as a result of our first match, I came back to her, urging for the key of my cage. She hypnotized me with her round ass and juicy girlcock, making me submit to her and teasing my locked-up dick. I responded by tying her up and torturing her sensitive nipples, but she broke free and worked out my first orgasm with her soft feet and skilled hands. I managed to make her cum on my face but couldn't resist after she tied me up and vibed my cock, humiliating me by cumming like a girl and locking me back into my cage. She was generous enough to let me chose between locking my dick up irl for five matches or having me to free myself by a dice roll before I can use my cock during my next seven games. I picked the rule, but if I lose to her once more, I will turn into her personal slave forever. Anyway, I will challenge her soon again to free myself from that tight cage.

Lina
I started by pulling her pants and panties off vigorously and giving her a few slaps on her bare ass. She was fuming and put a collar on my neck with the tag "Linas Toy" and mocked me with how she would beat my ass. She hypnotized me with her exposed pussy, making me beg to worship it but forced me to lick her butthole by placing herself on my face before she allowed me to eat her juicy pussy. She was so eager to rip off my boxers and when she finally did, she pulled out her strapon, bent me over and pushed it inside my ass until I was moaning from pleasure, reminding me how much I liked it when she did this to me in our previous match. She completely dominated me at this point and I was already so close to orgasm, that she even went easy on me and didn't make use of her hypnotizing eyes and curves. After luring me into a titfuck I saw my chance and tied her up tightly. She was struggling effortlessly, gaining me access of her defenseless body by punishing her breasts as well as her ass with my crop and teasing her pussy, working her closer to an orgasm. Regaining my confidence, I was sure that I could turn the tables and raised the stakes by adding an IRL punishment to our bet. She then tried to make me cum by sucking me off with my ass plugged up but I was able to barely resist her and sent her over the edge by pounding her pussy, making her cum with her eyes rolling into the back of her head. This just provoked her even more and she made me squirm by making me cum with a probe inside my urethra. She directly teased me with her ass again. Unable to resist, I lost myself in her tight hole and was unable to fight back as she finished me off by spurting inside her pussy. She then punished me for my bratty behaviour by ordering me to shoot my next 5 orgasms into my own pants.

Annie
In our rematch, she lost no time, trying to hypnotize me with her girl cock and her ass, without any success. My mind was just too strong. I tied her up, looking for the keys of my cage but unable to find them. She took the chance to get free and brainwashed me with her cock, making it impossible for me to resist this time and ordered me to take it in my mouth giving it a good sucking. After some up and downs and a lot of rough, dirty fucking, I reminded her of how I beat her last time, as I sucked her cum out of her girlcock again. After failing to make me cum by punching it out of my balls and squeezing her tight ass around my cock, she pushed me on my back and rubbed her cock against my prostate until I couldn't hold it in any longer. She directly tied me up and punished my balls, making it impossible for me to move so that I was not able to fight back after my first orgasm before she vibed my sensitive dick to another one. Laughing at my misery, she ordered me down on my knees, making me clean her feet with my tongue and turned me into her foot slave.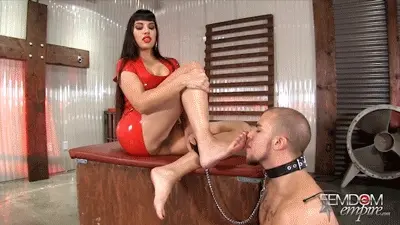 Bente
I picked her in matchmaking, excited from meeting such an experienced fighter and looking forward to make her one of my trophies. Both of us were diving right into it, I by freeing and torturing her nipples and she by humiliating me by putting me inside cute pair of her lingerie and slapping my face with her strap-on. Neither did I expect that this wouldn't have been the last time I saw that rubber dick. She showed me how much of a sissy I am by also adding a cute maiden outfit to my lingerie, pleasuring herself by planting her warm pussy directly on my face. I tied her up, clamping her nipples and pulled on them to make her pay for my new outfit, but she quickly broke free and squeezed my poor balls as I saw myself unable to resist being completely restricted by her ropes. I barely managed to resist cumming as she crushed my balls and even managed to hold it in when she made me moan by sliding her finger inside my butt and rubbing it against my sweet spot. Finally freeing myself, I tried to gain the upper hand again and filled her mouth with my full length, but only to end up under her as she took her chance and rode my cock to orgasm. Taking a few deep breaths and recovering from the sensation, I was finally able to make her cum with my fingers inside her exposed and defenseless pussy. I was confident at this point but it seemed like she was just toying with me. Making use of my weak spot, she licked my butthole while stroking, but only to lube it up for her strap again, finishing me from behind with my backdoor being stuffed as I could only watch the cum dribble out hands-free. Was this the end? Not even close! She pulled out a camera to record me and keep everyone reminded of what a slut I am while I was locking my still hard cock inside a cage and kept fucking my ass with the strap-on she just used on me. Being totally humiliated by her I had to tell her how superior she is while shooting another load through the cage on the floor with the strap rubbing against my prostate. "Now lick this up! We can't leave this room while having it look like a mess!" she shouted at me, zooming right into my face while I was licking and sucking every drop that I spilled on the floor.


In our rematch, in addition to keep myself locked, she completely destroyed my balls during my final orgasm. Seeing no use of my dick and balls any more, she turned me into a cocksucking slut.

Joanna (Antonella)
That cum hungry whore... She did it again, draining me completely twice. She was teasing me with sucking on her dildo, calling her friends, all going for my cock, leaving me helpless and in surrender, draining out the first ropes of cum with her sexy feet, trampling all over my cock, making me squirm in pain and pleasure. Still feeling drained, I had to use my mouth on her, circling my tongue around her clit, sucking on it and moaning inside her as she couldn't hold back anymore and came intensely. Not giving her time to rest, I called my friend, helping me out by each of us penetrating her tight holes, but instead of making her cum, she turned Tha tables, bouncing her pussy on both of our clocks, jiggling her cute ass against us until both dicks shot out every drop that was stored inside our balls inside her hungry pussy and ass. Pushing me out of her and leaving me on the ground, she invited her friends over, teasing me with their cute pairs of feet and having me worship them from now on.

Alex (as Antonella)
A match full of kinky bondage and tantalizing hypnotization. I was tying up her tits, slapping them hard with my crop to make her squirm, but only to notice she was enjoying it. She eventually broke free and hypnotized me with her cute girlcock, getting me down to my knees and worship it like a good hypno slut. I didn't even get to make her cum once, before she drained my balls again with her skilled tongue against my sweet spot, leaving me shaking on the ground, humiliated and submissive. I was turned into her slave for a whole week, with daily irl tasks and changes to my profile.

Sasha Foxxx (Antonella)
After I made her my foot slave in our first match, she came back to, demanding a rematch to make me submit this time. She lost no time, directly taking her socks off and trying to hypnotize me with her perfect feet, but I was able to turn the tables by putting my heels in her face, remembering her on how good they made her feel the last time. Slapping her ass with my cane got her furious and she made me regret my actions by putting on her strap-on, first forcing me to lube it up with my spit and then bending me over to stretch out my ass. She then tied me up tightly, making use of my misery and teased me with her feet while further pounding my ass. She took advantage of my submission and told me to admit that I'm her footslut, making me kiss her feet while she milked the cum out of my cock with her hands on my shaft and inside my ass. Furious from this humiliation, I tied her up, placing a vibrator on her sensitive clit and pushed her over the edge to orgasm. I thought I had the upper hand, but couldn't resist when she was grabbing my cock again tightly with her hands, making me cum all over myself again. "Soo tell me who are you!" she sternly said, dangling her heels in front of face and I had to admit that she turned me into her footslut, forcing me to suck on her heels while she was rubbing my cock with her feet, working me up again. "Now i want you to cum by humping my shoe while licking my feet clean!" she ordered and made me spill all my cum over her beautiful heels, with my tongue licking every single toe of her and my mouth moaning against her foot. "Now clean your mess" and I did as I was told, thanking my Mistress for making me cum all over her shoes while being allowed to kiss her divine feet.


Update below!
Betty (Antonella)
A girl with a big mouth, but she was able to deliver in the end. Even though I managed to tie her up and punish her for her smacktalk, she recovered quickly and hypnotized me. Showing no mercy to my ass, I was mesmerized by her girlcock and begging her to fuck me even harder. She even resisted when I tried to get the upper hand again by tightly squeezing my muscles around her shaft, so I changed my tactics and drained her balls with my hands and mouth for a first orgasm. But she was quickly showing me that I was no match for her by making me cum back-to-back, first with her feet and hands and another time with her girlcock deeply buried inside my ass, causing me to moan in pleasure as she was pushing me over the edge and finally showing me how much superior she is.

Reese Cups (Antonella)
Losing no time getting ourselves undressed, she didn't hesitate teasing me with her c cups breasts and working my girlcock rock hard. I took over control quickly, first by smearing my precum all over her face and then by sliding my cock into her eager mouth, with a helping friend of me prepping up her strap on and taking care of her wet pussy. It took some time for her to break our dominance and hold her orgasm back but as soon as her dominant side took over, a steamy combination of a blowjob and toying with my ass sent me over the edge. This seemed to have worked up herself very much as well, because as soon as I started to get behind her, teasing her ass with my girlcock and her clit with my vibratory, she orgasmed right below me. This got me so close that I couldn't hold myself back and creampied her pussy after she was luring me inside her. Having me completely exhausted, she put both of us down on our knees, forcing my friend to lick her pussy and suffocating me with her ass, making me lick her butthole until she orgasmed right over both of us.

---
Conquered
Jaslyn
I directly started tying her up and hypnotized her into submission. She was looking forward to owning me, but I was able to turn the tables and made her submit to my cock while having her cute asshole teased by my tongue and fingers. She then broke free and teased my prostate with her skilled fingers, making me moan and beg her to continue. I was able to resist her and put her on her side, making her cum by having her ass punded. She took advantage of me taking a break afterwards and teased my most sensitve part until the precum was leaking all out of my tip. She then offered herself to me and made me cum inside her tight pussy. After catching my breath and gathering my strength back, I fixed her with my arms, unable to resist as I pound her ass to another blissfull orgasm, making her my little pet. I sent her to Trixx as a gift, the first of many more to come :)

Sexyy Kitten
She directly started by swaying her hips in front of my face but didn't expect me to resist, so I bend her over and [unished her cute butt. I was able to make her submit to me, but as soon as she came back to conscience, she punished my cock and made me squirm. She then worked me up closer and closer to the edge with her pussy on my dick, only to leave me with a ruined orgasm from punching my balls. She took advantage of me trying to take a rest and tied me up stroking and blowing me back to the edge, almost making me cum again. But she didn't expect me to resist and I hold her with my arms, pounding her until she came back-to-back, experiencing multiple orgasms and squirting all over herself. I hope Trixx will like this cute as much as I did.

Jennifer
She was trying to make me stop locking away people in the asylum and instead threatened to lock me in chastity if I lost against her. After ripping each other's clothes off, she teased me with a slippery handjob, exposing her big breasts. I responded with pushing my tongue deep inside her butthole. Getting on top of her and whispering into her ear how much I would love to make her cum brought her to her first orgasm. She kept exposing her self to me and sent me over the edge by squeezing her pussy tightly around my cock. She directly tried to make me cum again by attacking my cock and prostate with her fingers, but didn't expect me to resist and so I was able to pin her down once more and made her squirt all over the floor. She ended up on the ground, admitting her defeat so I could mark her with my sticky load.

Kate
Looking forward to become a warden of our asylum, she challenged me for a fight, but soon enough found herself begging me to fuck her hard. After all that begging and pounding, I pushed her over the edge with my cock thrusting inside her pussy, just to pull out at the very last moment to leave her shaking on the floor and in agony of her ruined orgasm. She desperately jumped on my cock, trying to make me cum with her pussy clenching around me but neither did she expect me to resist, as I was able to bend her over again and fucked her from behind with her face buried in the sheets, her moans choked by the pillows. I flipped her over, grabbing her throat and whispering into her ear how much I wanted her to be kept in the Asylum, fucked day in and out by as she will just be hanging in the chains from the ceiling, unable to resist. Eventually, that little slut found herself on her back, screaming her lungs out as I fucked her to a blissfull orgasm.

Annie
In our first encounter, she instantly stated what she wanted to do to me: making me submit to her feet! She directly started by teasing me with her perfectly manicured toes, forced me to suck on them and hypnotized me with them, bringing me down to my knees to worship. We tried to hypnotize each other, but our minds were too strong. I was looking to unlock myself from my cage, but failed several times, while she could only laugh at my misery and mocked my caged up dick. I tied her up and punished her ass with my fucking machine, working her closer so that I was able to drain her with my mouth. Just after, she was able to do the same to me, before I brainwashed her with my cock and made her worship it. She then changed her strategy and worked me closer by penetrating my ass, trying to finish it off with her feet trampling my cock. I barely resisted cumming and after another successful bondage, I made her shoot her cum all over herself with my cock filling her ass.

Svetlana
Confident to claim each other, none of us lost any time to rip off each other's clothes. She tried to tease me with her ass, but I saw my chance and added a little color to those cheeks with my cane. Trying to find my weak spot, she pulled out her strap on and forced it inside me, causing me to bite into the pillow, unable to resist her pounding. I couldn't free myself from my cage, so I attached a vibratory to her clit, strapping her down and working her pussy with my fingers and tongue. She took advantage of me taking a breath after failing to make her cum and railed my butt again, working me closer to the edge and finished me off with her vibrator against my cage. I finally unlocked myself but instead of fucking her I made her feel what she did to me earlier, vibing her clit to orgasm as she was helplessly pulling on that ropes. Both of us were so worked up at this point, teasing each other to madness, when I regained focus first and placed my tongue against her still sensitive clit. She couldn't resist my licking and sucking and lost herself in another orgasm. Claiming my victory, I bend her over and finally let her feel my cock inside her warm pussy, pounding her from behind as I made her slave watch her mistress getting humiliated.

Sasha Foxxx (Antonella)
It was time for me to take my revenge and show her who the real foot slut is. Planting my feet close to her face and having my girlcock drilled up her butt was just too much for the cute foot addict and she couldn't resist cumming all over while kissing my feet, sealing her fate as my foot kisser.

---
Special Mentions
India
India saw me in a public session. When hearing that I was doing nnn, she started teasing me, telling me how much she wants me to cum for her und sucked my cock until I couldn't handle it any more and came inside her warm mouth. Completely shattered that I failed my challenge, she made me one of her cucks, servin her as my queen never being able again to feel the sensations of her beautiful body. From now on, I am only allowed to watch her helplessly and stroke myself to the picture of her sucking off and getting fucked by superior men.

Capricorn~ The Ambitious
I challenge the Capricorn zodiac goddess, eager to make her my submissive anal playtoy. What then happened was a beyond belive fight for dominance of strong minds, with several failed hypnotizing attempts. I was taking advantage of her weakness for my massaging hands, while she was constantly talking about locking me up and making me her personal ass slave teasing me with her round ass, making it imposible for me to resist eating her out several times. Her ass was so mesmerizing that it was completely numbing my mind, feeling myself getting morr and more addicted with every touch I placed on it. She was calling some help from the other Zodiac Goddesses, Virgo and Taurus and attacked my dick in a triple blowjob. I was doomed by my blowjob-sensitivity and didn't stand a chance against all of their skilled mouths as I erupted all over their faces in a mindblowing orgasm. From now on, I will serve her as her personal throne, always worshipping her divine ass. Truly, she manifested her place as the goddess of anal sex. To further express her aversion against the Goddess of Chastity, Libra, she made me addicted to masturbations. Now, whenever I get the chance to stroke myself, I will mindlessly slide my hands in my pants and moan in pleasure.

Linlin Mira
After Linlin saw, what Alice turned me into, she just couldn't wait but offer me a helping hand. Unexpectedly, our first date immediately turned out into a lesson for me, with naughty Lin teaching me how to use my new body in steamy sexfights and ultimately rewarding me with my first load of cum that I needed to collecct for Alice. But not only that, she also caught the whole thing on cam, sharing it to everyone how I was begging her to have my butt filled with her nice girlcock.


Seeing me struggle to find other dicks to fill my greedy butt with, Lin gladly took the spot and invited me over to her place. Being tantalized by her teasing and her beautiful curves, I almost forgot my purpose and got lost in lust, trying to take over her and fuck her mindless. But not did Lin, being the caring friend that she is, she didn't forget what she promised me and Alice and made me her again, giving me my second load and encouraged me looking for other victims as she could not do everything by herself... or can she, though?


After this experience, I just couldn't wait to meet Lin again and things were getting out of hand when we meet each other on the streets and quickly escaped into a hidden alley. After being filled up by her twice already, I wanted to hear her moaning under my mercy me this time and almost finished her by pinning her to the ground with my toes tickling her sensitive spot. But neither did I expect how hard that backfired as she grabbed my feet and pulled me on all fours in front of her, just easily overpowering me before pounding me to another intense orgasm with her big meat against my p spot, causing me being able to do nothing more but moaning and shouting in frenzy. On top, after giving me what I was craving the most of her, her warm load inside my butt, she pulled my hair, making me squirm in her grip to make me admit that I fully belong to her now and that no one fucks me so well as the wonderful Linlin.

Julieta
This girl, oh my... where do I start. No one around here triggers my submissive side that hard and makes me feel like a horny bitch every time I meet her. Abusing my weaknesses and making me squirm for her seems to pleasure her so much that she didn't stop after beating me once, but four times in a row, ending it with locking my cock up and teasing me with the keys that she now wears around her ankle.


To ensure i will be squirming and struggling every time I play with her, she forced two new rules on me.
From the start of every match on, I have to roll a 6 before I can play any actions. For 5 matches (5/5)
Anytime my dick is being used or abused I need to skip or cum if it's a cumtest. After that turn, I need to throw a dice and have to skip until I roll a 6. For 5 matches (5/5)
---
Slutty Sub Challenge
Are you woman enough to take on the "Slutty Sub" Challenge? Here's your chance to proof everyone that you are better than most of the others (or at least better than me 😉) around here.
(So far, this challenge is new and therefore still in progress. Even though I miss to notice them right now, I think there are many ways to improve it. Feel free to recommend any improvements to the rules of this challenge.)
How does the challenge work?
Just stating the obvious: we will sexfight each other in your preferred game mode (classic/hentai/wrestling). In classic, my above stated hypno/bondage rules apply, hentai will feature the in-game bondage actions as well as my hypno rules (see paragraph about rules) and in wrestling, we will not skip tapout actions, if this is the only action possible to be played. In the end, the winner will claim their reward.
What happens if you lose?
First of all, you will be added to my list of "Submissive Sluts" and acknowledge your defeat in your profile by changing your name. Additionally, either a new profile picture or a short paragraph about your defeat will be added to your profile. Secondly, I will roll a dice6 to determine the length of your submission. Your submission will include the already mentioned profile change and an additional task. After you completed your submission, any changes to your profile or tasks will be voided. If you already have beaten me before in my challenge, you will be removed from the list of "Untamed Brats". Still, the report of our match will stay on my profile and moved to the "Wall of Fame". If you end up losing three times in a row to me, you will be my permanent sub and add a small paragraph to your profile, expressing your submission.
What kind of task does the submission include?
You will get the option to pick between different tasks:
1. IRL: the number of the dice will determine the number of days, you will be submitting yourself to me. I will give you a daily irl task to complete. Failing the task will result in a punishment.
2. Rule: the number of the dice will determine the number of matches, you will be submitting yourself to me with a minimum of three matches (if the diceroll is <3). You will get a new in-game rule to play with.
3. Kinks: same duration as for the rule. You will change your kink status to "Sub" and switch off "Female Domination" (if you are pink) or "Male Domination" (if you are blue) for the time of your submission. The kinks cbt/pussy torture/humiliation/bondage/pain/pussy torture/cock worship/pussy worship will be set to receiving only.
However, you can always free yourself early by beating me in a rematch. Only be aware that losing to me in a rematch will put you deeper into submission and extend it by the number of another dice6 roll. Since you now have fallen deeper into subspace, you will get another task to carry out for this period. Beating me in this kind of match will only free you from my list, it won't grant you permission to give me a new rule or change my profile (as below). Your freedom shall be enough of a reward 😉
What happens if you win?
"Oh my, those are some high stakes! What do I get in return?", you might ask now. That's a good question! If you win, I will add you to the list of "Untamed Brats", a report of our match to my profile and you can make me complete a task (irl, rule, profile change) for x days or matches. As above, "x" will be determined by a dice6 roll (minimum duration are 3 days/matches).
Submissive Sluts
Akira
Mistress Rui
Alicia
Marikah - Stage 2
Untamed Brats
Samantha (0W-1L)
This cute brat took on my challenge, teasing me by giving me easy access to her dripping wet pussy and toying her, slowly ramping up her arousal. After this little teasing, I thought it would be better to cool her down with some slaps to her bare butt, only to toy her again and forcing her to cum right in front of her mirror, making her stare at her orgasm face. Her willpower was still strong and her mind far away from being broken. She was taken revenge by climbing on top of me and pulling out her strap on, pounding me to an humiliating anal orgasm. Furious, I threw her into the sheets, trying to fuck her to orgasm several times, but I was underestimating her exceptional stamina at this point. She took her chance of me taking a rest after another failed attempt and finished me off with her tongue tickling my butthole and her hands tightly stroking my cock. As she was marking my dick afterwards, I realized that this brat was too tough for me to tame.

Alice (0W-1L)
I got to know Alice in one of my public games, in which she was already mocking me for my caged cock and said that she would never lose to someone like me. After some heavy trash talking in dms, each of us describing what plans we had for each other after our victory, we finally got to meet face-to-face, myself with a burning desire to trim the claws of the lioness and turning her into an obedient purring kitty. Both of us were so eager to make the other submit for them, that we lost no time tearing off each others clothes. Her first hypnotizing attempt didn't take me long to snap out of and I replied by pulling out a roll of tape, fixing her wrists and legs. With her lying down all defenselessly and me getting tired of her talking about how she would turn me into her little pegging pet, I stopped her smack talk by shoving my dick right into her mouth. She made me stop by attacking my balls, squeezing them until I went limp, laughing at me and asking how I was going to plan to make anyone cum with such a soft weenie. But as soon as I got my cock back in action, I was pushing into her mouth again and ohhh did she start to like it at this point! She tried so hard to fight back, but couldn't prevent me from fucking her pussy with and ordering her to suck on her dildo as I was sliding two fingers up her butt. What a humiliation! Having all of her holes stuffed at the same time like a real slut, that I was about to turn her into. She was putting on some latex gloves, threatening to have closer look at my sensitive butthole, but found herself with my dick on her tongue again. Fuming now, she digged her fangs into my cock to make me pull it out, squirming in pain, before she brought my cock to the edge with a sensual foot massage, leaving it oozing precum and twitching in the air. She saw her chance and didn't hesitate for a moment, jumping on my cock, making it impossible for me to resist cumming inside her pussy and showing everyone that this lioness was still able to roar. As I was still catching my breath, her gloved fingers found their way inside my butt, tickling my sensitive spot and getting me full erect again. Eager to finally make her cum now, I grabbed her arms and pound her pussy Full Nelson, but didn't expect such an exceptional staminia. I couldn't let this happen to be the turning point and put the lioness on her back, wrapping my hands around her neck to completely drain her energy and deeply stared into her eyes as Alices pussy finally spasmed around my dick in orgasmic ecstasy. What once worked, should fit again abd reached for my ropes, but these seemed to be easy prey for the lioness and her claws. She was easily tearing them apart and took advantage of my disbelief, by sliding a plug up my sensitive butt. Feeling her sucking on my tip, the plug slowly stretching me out and her hand wrapped around my shaft, I thought "it's now or never" and went for her pussy in what was turning out to be the ultimate test of endurance. My intense licking on her clit didn't stand a chance against her skillfull sucking and as my cock hit the back of her throat I finally tipped over the edge, erupting all of my cum over her pretty face and making me collapse under her.


Savouring her victory and laughing at my misery, she made me crawl to her bondage chair, "Now you know what will happen!", tied my arms and legs and pushed her thick 8 inch strapon all the way inside my butt, causing me to whimper and beg her to have mercy on me. Throwing several slaps at my exposed ass, she shouted: "Yeahhh! Moan for me, pegging pet!!", and I did, I moaned so loud that everyone watching realized who was in charge. Her hand reaching around for my dick, teasing it again with her strapon mercilessly exploring every spot inside my sore ass. Moaning and whimpering from her hand and her strap I felt myself getting closer and closer to the edge again. "Yeahh cum for everyone here! Mister pegging pet!!", she ordered and with only a few quick strokes, my cock was spurting out once again. She reached out for her purse pulling out two pink pillboxes. "Take this! You might love them! Just swallow and see what happens!", she said and I opened my mouth. The first pill narrowed my waist, grew me a handfull pair of boobs and caused my butt to rounden, transforming me from Anton into Antonella. The second pill created a burning desire to have my ass filled up with dicks and cum, only making me able to return to my male appearance after I collected 10 cumshots inside my ass. But neither of those killed my demand for revenge! I will come back again for this lioness with better hunting gear.

---
IRL Edging Challenge (Paused)
Feeling horny? Got some stamina and want to put it to a test against me? Then, you might be the right competitor for this edging game inspired by the tainted Throne. Bets or stakes (especially irl) are highly recommended for this challenge, but not mandatory. For any oral/anal/pussy action that is played, the receiver has to edge once. If that action also involves "Female Domination" or "Male Domination", the receiver will edge twice or hold the edge for 10 seconds. For cumtests, there are two options:
1. the receiver rolls a dice6 and performs as many edges.
2. the receiver rolls a dice60 and holds an edge for as many seconds (in-game timer recommended).
The game is lost if the player either cums irl or loses in-game.