Days' Tournament Extravaganza! Now Underway!
Match 1:
LD176+Ella vs Damn Silky+Lilith
LD176 vs Lilith. Winner: LD176.
Ella vs Damn Silky. Winner: Damn Silky.
Match 1 results. 1-1. Tiebreaker to be scheduled.
Match 2:
The Merchant+Elena vs Romantic+Day
The Merchant vs Day. Winner: The Merchant
Match 3:
Ego S.Q.S+Amathyst vs Alex+Sara
Amathyst vs Alex. Winner: Amathyst
Ego S.Q.S vs Sara. Winner: Ego S.Q.S
Match 3 results. 2-0.
Match 4:
Cyril+Chloe vs Maverick+Alissa
Tournament rules for now. (Subject to change if I dumb dumb)
-All matches will be public and ideally titled with reference to the match and tournament. (Not strict on this one though.)
-Teams and matches will be randomly assigned at the start by use of a random number generator.
-Males will face Females. In the event your team members each win a game. The girls will fight it out for the decider.
-(Two options for debate!) All first round losers will entire a sideshow of sorts. Either teammates fighting each other with a forfeit.
Or all first round losers go to the auction! Details will be announced later...
(May opt out of this if you aren't into it)
-Organise your own games as soon as you are able, players decide what game mode they use. If you both have a different preference, you can roll a dice on game type.
1-Classic
2-Hentai
3-Wrestling
Players
*Male*
Damn Silky
LD176
Ego S.Q.S
Cyril
Maverick
The Merchant
Alex
Romantic
*Female*
Alissa
Elena
Chloe
Sara
Ella
Amathyst
Lilith
Day
~~ ~~ ~~ ~~ ~~ ~~ ~~ ~~ ~~ ~~ ~~ ~~ ~~
I will get around to this properly at some point soon... hmm but as a little placeholder. What to say... 🤷‍♀️ basics of 5'5-6", 34B. Erm... slim build nice little bum~ I might start wearing a choker in the regular. Don't read too much into that... I just think they are sexy.
And by might be wearing a choker. I mean I am now wearing a choker.
What else... I suppose I should let people know who haven't played that if we are in a public match I am going to do my best to win. Stubborn right until the end, using whatever tactic I think is most suitable to get my partner to lose it~
Oh and more importantly... I love to create a story in my matches. So I get a little heavy on the RP, if I'm writing too much and taking too long, just give me a little slap and I'll speed it up 😂 I'm sure there's more interesting things to say... love to flirt, love to tease, drop me a message and I'll get back to you? Nah that's lame... eh. I'll fix all this when I'm feeling more inspired. Oh! I love to give little nicknames. Which I have finally added to my bio below... 👋
*~For the Lovely Jessica Barton~*
How to begin... she is the crazy lady that lives in my home and loves me unconditionally 😁
No that's not quite right... well it is but... Hm.
She's the prettiest thing around these parts, a sexual dream, or nightmare depending on your perspective... sometimes a nightmare to live with too, but always brings a smile to my face. She is... My worshipper? My lover? I am her Goddess for sure. It's complicated.
Either way she is a handful and I love her 😁
See the attached picture for her outfit~ Oh! And be sure to flirt with her openly and in private. She might be frosty, but rest assured she loves the attention 🥰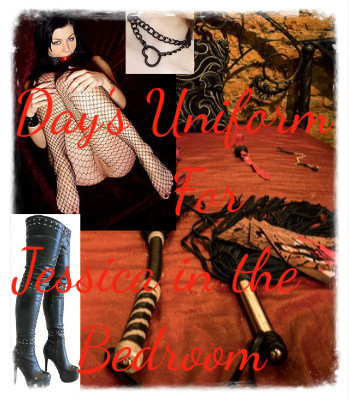 ~~ ~~ ~~ ~~ ~~ ~~ ~~ ~~ ~~ ~~ ~~ ~~ ~~
The Great Auction
An auction was once held by the Indomitable Donna. During which I came to own 4 lovely ladies... and was perhaps a special prize claimed by Donna herself... she was a fun Queen. 👑
Anyway.
I held a tournament between my girls to decide upon a ranking of sorts, the results of which were as follows.
1st Place. Tigresa
2nd Place. Aranei
3rd Place. Jessica Barton
4th Place. Ciel
*For reference so far...*
Jessica Barton: "Your worshipful Jess whose beauty eclipses the sun and the moon and all the stars above, who makes Helen of Troy look like a lump of wet clay, and whose every whim commands obedience and subservience" ... or so she claims. Not quite sure I believe that one.
Damn Silky: Buttercup. Owes me a new sink... shakes fist and a vibrator... I broke the bed and the silk though... message him for a game, he's fun 😁
DanaTheDominator: Muffin. Or the Subinator! She will kick your ass if you call her either without me there :P
Luna: Beautiful. Beat me in my first title match~ she's so lovely. Called me Sunshine, which seems to have spread...
AlexTheGreat: ...Papi. He's teaching me Spanish very poorly. The lessons are fun though... likes to feed me grapes in lobbies. I like grapes.
Dakota: Kitten. First LWR match, I won of course 😌 but she was amazing 😁
Elena: Ellie. Pretty Ellie? Maybe just Ellie depending on the mood.
Ash: CherryBomb. Because she blushes a lot and blows my mind... also ch ch ch ch ch ch ch ch Cherry boooomb!
Jessica: Sweetness. She knows why~
Gale: Another work in progress... Gave him his first true sub experience.
Dylan: ToyBoy Gave me ... the opposite of above...
Paige: American Beauty. We go back back and forth in the mornings~ love her style :P G.
Ciel: My DemonLily. Feisty sexy demon that is way too free with what they say and do...
Tigresa: Gatita. She talks dirty to me in Spanish and calls me Chica. I love it~ 🥰
Aranei: Silvie. The second place finisher in my tournament, and the snapper of chokers~ Basically made hentai mode what it is :P
Dwayne: King. An amazing fuck~ I'm wearing one of his Spades chokers. Queen to be exact. I thoroughly enjoyed showing off what I can do with my slutty side and well... check his side out.
(Drop me a message if I gave you any pet names 😁)