Cross-gender alt character made for competing in the LWR
Roleplay
Hair: Blonde
Height: 5"3 (160 cm)
Weight: 115 lbs (52 kg)
Breasts: 34A
I'm extremely bratty and I hate to lose. Very much into the wrestling part of sex wrestling, and I'll really enjoy breaking you before I finish you off. Can't wait to watch you tap out for me 😉
1x LWR CHAMPION 🏆
2023 - Wins: 3 | Losses: 5 (LWR)
2023 - Wins: 0 | Losses: 1 (Classic)
My right ass cheek now has a cute little tattoo, with the words "Property of Miss Alis" written across it. A nice shiny collar fastened around my neck, making it clear to everyone who I belong to.
Active Rules:
None
Inactive Rules:
Rules set by Miss Alis
Every time someone penetrates my ass, I'm going to thank them for doing so and beg them for more...
Goddess Devon
I had been trying to rile up Devon for a while, trying to lure her into the ring, so I could take full advantage of her, but she didn't even let me get that far, countering everything I threw at her, before finally I had no choice but to submit to her, smothering my face underneath her ass. That wouldn't be the end of it though, as before I could recover, Devon quickly had me hogtied and spread across her lap, where she used her generous collection of toys to completely break my body and mind. I submit to her fully now…
Freya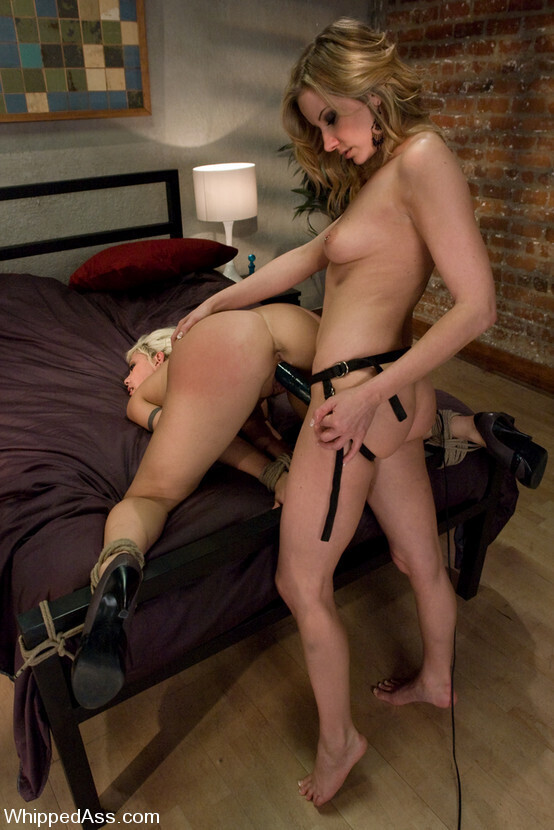 Despite initially bullying Freya, making her my bitch on a couple of occasions, I never quite got around to putting a collar around her pretty little neck…
Something I'd go on to regret when Freya decided it was time to put me in my place. After enduring all manner of pinches, slaps and squeezes, she finally broke me, wasting no time locking a collar around my neck. I'm now her little collared bitch
Sassy Selena (3-1) kept telling me how she was going to beat me, and for a while she did pretty well, trapping me in some painful holds. In the end she couldn't handle me, as I forced her to cum with my tongue. Afterwards I made my little Latina Loser apologise. She's so obedient now giggles
Oriana (1-2) beat me in our rematch, telling me my win in the first match was a fluke. She made me tap out first, before having me surrender to her strap on. Finally she forced me cum all over her fingers and I must now call her Mistress Oriana.
Erin Quin (0-2) completely defeated me in the ring and made me her little sub. I now have a new profile picture demonstrating my place at the bottom.
Jamie Valentine (2-3) and I finally had our rematch, which she completely dominated. Despite my best attempts, she forced me to cum twice and then went on to humiliate me, by making me lick her feet. Fast forward to our 5th match together and we were both 2-2. As the bell rang Jamie immediately tangled with me, fighting aggressively as she tried to put pressure on me. After a little back and forth she managed to overwhelm me, putting me in some painful holds and humiliating positions. I fought back and scored some holds of my own against her, before she finally forced me to submit in the most humiliating way, demanding I lick her foot as she locked me in. From there I was broken as Jamie forced 2 more orgasms out of me.
Dianne (2-2) talked big before our match, but with only 1 win and 1 loss I was confident she couldn't back it up... After one of the closest matches I've ever had, she proved me wrong as I finally succumbed to her tongue and fingers. 1-0 to Dianne, as she made me her bitch and showed me who is superior....
... At least until we had our rematch where I completely dominated her 😉🤫
Had so much fun bullying Emi (4-3) and teaching her some manners in the ring. She fought so hard, but in the end I had her tied up calling me Mistress Belle. She demanded a rematch, where I gave her the same treatment again. This bitch just wouldn't learn her lesson though and came back again for a 3rd match, where I finished her off in dominant fashion.
As she challenged me to a 4th match, I decided it was time to collar Emi and make her mine for good. She started well this time, getting rough with me and slamming me down onto the mat multiple times, while I tried to remain composed. I fought back hard, beginning to even out the fight, both of us making the other cum and Emi even managing to make me tap out. Just as it seemed as though i'd taken the upper hand she slipped free and caught me in a hard back bend, making me whimper in pain underneath her, before she flipped me over, straddling me as she finished me off.
What was supposed to be redemption for me and a chance to prove that Emi's last victory had been a fluke quickly unravelled for me. After a chaotic opening skirmish, she quickly took control, punishing me with some humiliating moves before she forced me to tap out, only releasing me when the ref got involved. Things only worsened afterwards after she forced me to cum twice in quick succession, before forcing me to tap for a second time. Despite a late match resurgence, it was already too late as Emi took her most dominant win against me so far, before leaving my broken body for the audience.
Nisa (0-2) has been constantly teasing me about losing our first match since it happened, so I demanded a rematch in order to put this little brat in her place. After a close start though, Nisa got the upper hand again, first making me tap out, before going on to make me cum for her. She then went on to cruelly deny my orgasms in the post match... "That'll teach you to run your mouth". 0-2
Mistress Cassie (0-1) lived up to her name, controlling me for most of our match, before dominantly pinning me at the end. She showed me that she's the superior woman between us.
Alyx (0-1)
Wanted to take on Zendy but sadly her mistress made her all subby and weak, so I figured I'd take her on instead. Despite all my aggression towards her, she just kept teasing me, eventually doing enough to push me over the edge as she made me her slut. Finally she denied my orgasm when I couldn't shut my bratty mouth and left me begging her in the ring.
Trix Pyke (0-1)
I met queen Trix Pyke in the ring, after a long build up of trash talking from me, I played aggressively and struggled, using my bitchy mouth to trash talk again, and I paid for it. I fucked her in the ass once and she definitely didnt like that, fucking me in 2 back to back orgasms, until i collapsed in the ring, first letting the crowd have their way with me, before making me clean her like the good little loser I am.
Twinkle (0-1) was supposed to be an easy win over a sub for me... But despite my best attempts to make her cum on my strap on, she managed to hold on, turning the tables on me at the last moment as she forced me to cum all over her tongue.
Naomi (0-1)
This cum cow was gonna be my little bitch in the ring... But she proved to be tougher than I thought. First smothering me underneath her ass, exactly as she said she would, before spreading my legs and forcing me over the edge with her tongue.
Tanya (4-1) (Collared)
After taking a win over this Korean brat in our first fight, she begged me for a rematch... Of course I obliged, keen to show this bitch her place again as I dominated her in the early stages of our rematch. Completely in control of the match, I used my strap on, trying to take a decisive lead, but despite using all of my energy, she refused to cum. Exhausted, she quickly turned the tables on me, making me cum first, and tap out not long after as she trapped me between her thighs... From there Tanya had me under control, making me cum again and causing an upset as she claimed victory.... 1-1. Next time it's my turn for revenge!
After 5 matches together, I've now beaten Tanya 4 times, making her the biggest loser on my record. I gave her a cute little collar so she remembers her place in future.
Raya (0-1)
A new rookie who had only competed with men in the ring before, and had never won. I was unfazed by her height advantage, and disregarded her claims about Taekwondo training, but she soon made me pay. Throwing me around the ring, as she dominated most of the match, before finally making me admit to being her little fucktoy.
Anna (1-1)
I gave Anna her first ever LWR match. She put up more of a fight than I'd expected, but I ultimately ended up on top, finishing her off after she couldn't handle my fingers
She must have had enough of being my slave since she foolishly challenged me again. It was close again, both of us getting on top at different stages of the match, but in the closing moments I had her pinned down underneath me as I sat on her face. In my eagerness to smother her though, I'd not realised that she'd slipped her finger down between my thighs, as she relentlessly fingered my ass while licking my clit. I came hard for her and she took the opportunity to bully me in the ring afterwards, completely humiliating her (former) mistress...
Natalie (0-1)
After my team completely dominated Tanya's team in our first ever tag team match. Tanya's team-mate Natalie decided she wanted a shot at me herself. Standing a good 4 inches taller than me, she threw around the ring more easily than I thought she would, and built up an early lead, scoring 2 submissions over me. After I tapped for a second time, she moved in for the kill, using her fingers to finish me off.
I quickly retaliated, forcing her to cum on my plastic cock, before she used her expert oral skills to take back control of the match. I knew she had me under complete control as she climbed up onto my back, her strappy penetrating me deeply as she demanded I crawl like a good horsey for her 😳. I tried hopelessly to get back into the fight after that humiliation, but I was done... She locked her lips around my clit again, and made me cum for her a 3rd time! 2 tap outs and 3 orgasms...
Linlin Mira (0-1)
After completely dominating rookie Anna, I put out an open challenge to the entire roster of EF. First challenger to step up was Linlin, and after a pretty even start to the match, she managed to strike first, forcing me to tap out. She took charge of me for the next few minutes, pinning me and fucking me however she pleased. I decided to try something risky, letting her fuck me, banking on her not being able to outlast me, and it worked. She came hard for me... Which seemed to enrage her as she returned the favour to me, not long afterwards.
Moving into the final moments of the match, I'd managed to make her tap out myself, but it wasn't enough to stop her from making me bounce up and down on her cock until I came... I tried to recover, still not ready to give up, but she straddled my body, managing to send a hard slap to my face, finally extinguishing the last bit of brattiness from my body as I surrendered to her.
Destiny (0-1)
Another pink haired bitch wanting to test her luck with me. She'd already lost to Tanya so she wasn't exactly on my radar as a threat... That soon changed though as she completely out-wrestled me in the early stages, repeatedly pinning me to the floor, and putting me in some humiliating holds. It didn't take her too much longer, before she made me crack... A painful boston crab forcing me to submit, after which she stripped me, and wasted no time as she slide her plastic cock into my ass. Fighting back hard, I turned the tables, getting her on her back and forcing her to cum in a way I knew would humiliate her the most 🦶
Knowing how easily she'd thrown me around the ring earlier, this was probably an error, as she fought back angrily, keeping me pinned to the floor for several minutes, before she decided it was time. The fight continued with her mostly in control, even getting a little revenge for earlier... She finally finished me off her lips wrapped around my clit as she licked and sucked hard. She took me as her prize, as both her and Miss Poki spit-roasted my broken body...
Farrah (0-1)
I underestimated Farrah, thinking she'd be easy pickings. After a pretty even back and forth tussle between us, she slipped one of my holds, to quickly trap me as slipped 3, and then 4 fingers inside my ass. Unable to take anymore, I surrendered to my Egyptian Queen as she demanded… I won't underestimate her again!
Jenny (0-2)
Another feisty blonde trying to shit talk her way to the top? Who does she think she is? Me?! The match started and after a brief skirmish, she managed to put a big move on me, stunning me for a moment as she took advantage.
I fought back with some moves of my own, before she took a big lead after smothering me underneath her and putting me to sleep.
I tried to recover and get back in the fight, even managing to make her cum, before she rammed her strap on inside my ass and spanked me into submission.
She wasn't finished there though, as she continued to fuck all my holes with her strap, ignoring my pleas for her to stop, before finally fucking my defeated body to sleep.
I finally got my rematch with Jenny, and heading into the halfway point of the match, it looked as though I was going to get my revenge. After slamming her body to the ground, I fingered her peachy little ass, but to my amazement she held on. I wasn't done with her yet though, placing my foot on top of her clit, I forced her to cum all over my pretty little feet.
I knew Jenny wouldn't be finished that easily, and sure enough she came back strong, lifting my legs into the air as she folded my body up, and using her tongue to lick my pussy until I couldn't resist, she evened up the score. She whispered sweet nothings into my ear as she began to take control, trying to break me mentally, before she slipped a strap on deep inside my pussy, spanking my ass as she forced a 2nd orgasm from me.
Evelien (1-1)
Having dominated this little bitch once already, during my longest win streak to date. How could I possibly say no when she asked me for a rematch?
As the 2nd match began, she managed to take an early lead, trapping my head tightly between her legs, but it wasn't long before I would take her down myself, asserting my dominance as I forced her to submit to me. I didn't let up from there, keeping her mostly on her back as I took control of the match. She stubbornly kept fighting back though, forcing me into some humiliating positions. As I let my guard down for just a moment, managed to wrestle me to the ground, showing off how much she's improved since our first match, and fingered me relentlessly while I was trapped underneath her. I had no answer for her as I helplessly leaked all over her fingers and she took the victory away from me. I must now call her Mistress until I can beat her in a match.
Lana (1-1)
Lana and I had a very long and intense match, both of us taking control of the match during different points of the match. I scored the first point of the match, forcing her to cum all over my fingers, but she fought back to turn the tables on me, forcing her strap-on deep into my ass to even the score. Then almost immediately she took a commanding lead, forcing me to cum over her vibrator, my body still recovering from the first orgasm. Getting desperate, I made a lunge between her legs, my tongue flicking relentlessly against her clit as I finally managed to even the score. I let my guard down for just a moment, but that was all she needed to put me in a humiliating position, as she drained the winning orgasm from my broken body.
Grace Robinson (2-1)
This little slut though she was going to make an example of me, put me in my place, but after I made her my little bitch twice, I think she now understands her place. Such a fun little pet to play with. Perhaps she'll need a collar next time I beat her…
Tina (0-2)
I've faced a few redheads during my time here on EF. And one thing they all have common, besides their hair colour, is that they're all pathetic little subbies. At least that's what I thought, until I decided to take on Tina. Our match started fairly evenly, but I could tell she was not like the others I'd faced. She managed to trap me between the ropes as she took great pleasure in filling all my pathetic little holes until I came for her. I tried to fight back as we rolled around on the floor, even managing to make her cum and scoring one point back, but she was unrelenting as she asserted her dominance once more, grinding her pussy on top of mine, her hand on my throat keeping me pinned until I finally came and surrendered to her.
Redheads are strong…

Out of nowhere Tina messages asking if I want a rematch with her. Of course I accept an opportunity to put that redhead in her place, so we meet in the ring again. I do a much better job this time around, keeping the match close all throughout, but she suddenly starts to pull a lead on me after accidentally stumbling across one of my weaknesses. She went on to exploit that for the rest of the match, and despite my best efforts to fight back, she finished me off with her fingers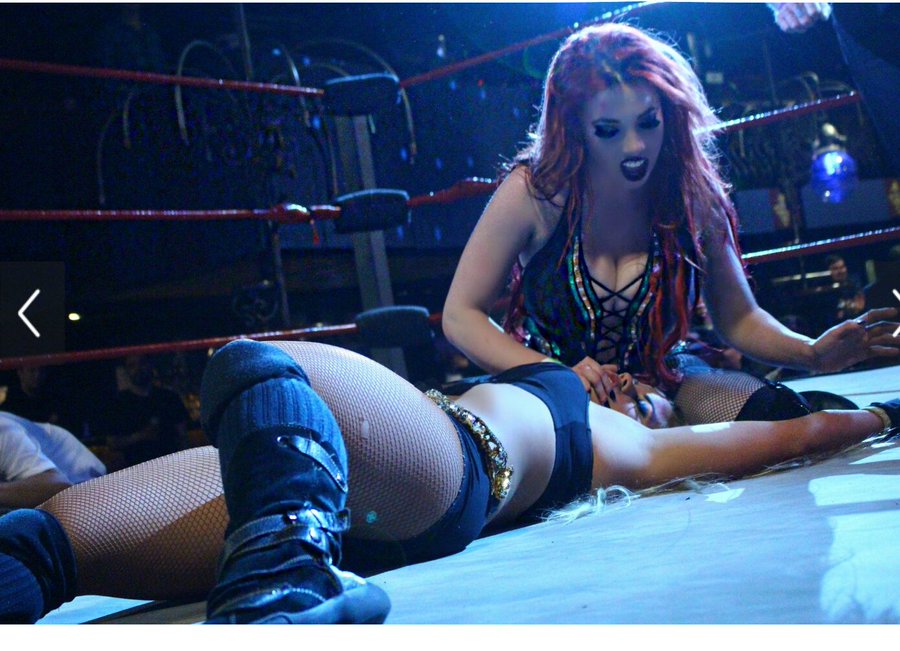 Belle Delphine (1-0)
Finally! This match had been brewing for a long time, Belle constantly claiming she could beat me. I could hardly wait to shut her up. I'll admit she caught me off guard early on, building a small lead on me, bitch can actually wrestle, but I wasn't able to let her win, coming back strong to finish her off and leaving her knocked out underneath my pussy. Better luck next time loser Belle 😘
Mariah May (2-1)
After getting randomly called out by this overconfident bitch, of course I had to take her up on her offer. Upon squaring up the "The Glamour" I was surprised by how much taller she was than me, and this seemed to work in her favour as she threw my smaller frame around the ring. Tiring her out I struck first as I forced her to tap out. She was far from finished though, The Glamour getting inside my head degrading me as she branded my small tits "bee stings", before fingering me hard to force my first orgasm. I retaliated, clearly angered by her taunts as I fingered her pussy hard, giving her an intense orgasm. I went on to make her tap out 2 more times during the match, feeling confident as I kept her under control towards the climax. The Glamour however had other ideas, lifting me onto the turnbuckle as her fingers worked my pussy once again, finally becoming too much for me to handle as she drained one final orgasm from me to take the victory.
I see now that I was wrong, I could never compete with The Glamour.
Dakota (1-2)
Where do I start with this one? Fiercely competitive and with a killer body to back it up. In our first match, I took her down and made sure she didn't forget about her humbling loss, by torturing her tiny tits with nipple clamps. Something I'd go on to regret as she turned the tables in our second encounter and went on to get her revenge on me with those same clamps. Fast forward to our 3rd match and I was a lot more cautious this time around, being careful not to get caught out by her. Despite her scoring an early tap out by relentlessly spanking my ass, my strategy was working and as I put the poor red head through as much pain and pleasure as I could. Just as I thought she was finished though, she somehow got back up, her tongue flicking against my clit as she splayed my legs wide. I had no choice but to cum and surrender as she took her 2nd victory over me.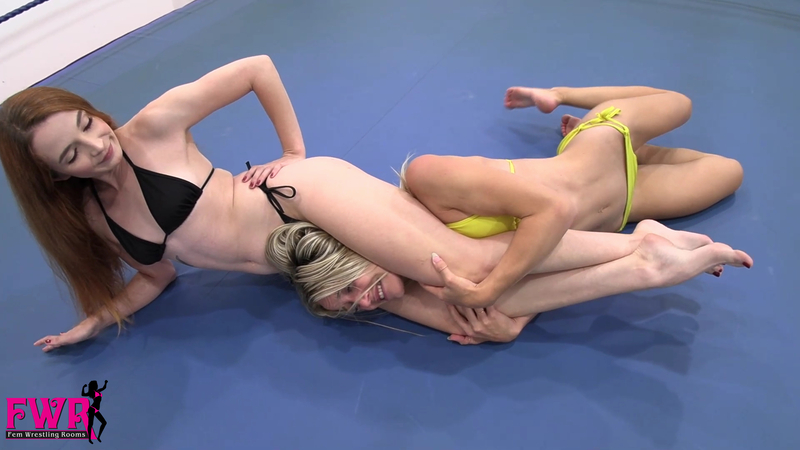 Leo (0-1)
In a rare mixed match, I took on Leo (AKA Huff and Puff). I took great pleasure in finding out his secret weakness, exploiting it whenever I could to gain an advantage as he threw my smaller body around like a rag doll. It wasn't too long before I managed to wear him down, using his weakness against him as slowly tried to break him. I got inside his head, made him call me Mistress, before I perhaps got a little overconfident… With his hand around my throat and his fingers on my clit, he forced a humiliating orgasm from me and took my win away. He went on to pound my ass in the post match until I declared myself his buttslut. Not finished he locked a collar around my neck. I'll be claiming that key back in the rematch…
Juli (0-1)
I was confident of putting this German slut in her place, but she soon made me crumble, trapping in a number of submission holds. I was completely overwhelmed by her strength as she went on to score a flawless victory over me, even making me tap out in the late stages, completely humiliating me after such a dominant performance. I'm now forced to stay in her cage for the next four weeks…
Little Tara (0-1)
After hearing that this little bitch had brutally dominated and then pegged one of my little pets, I had to respond, demanding she join me in the ring. I started well, trapping her tiny body in a number of humiliating holds, but no matter what I did, the little goth bitch refused to break. By the end things were quite even, but Tara broke my will, driving her fingers inside me until I couldn't take any more.
In the post match she did exactly what she said she would do, tying me up and gagging me while she fucked my ass, worse than she fucked my pet's.
Bri (0-1)
I got called out by a beauty called Bri and had fun throwing her around in the wrestling ring. I had completely dominated her for the first half of the match, until she managed to smother me under her pussy, knocking me out. From there she dominated my weakened body and forced me to cum all over her fingers, and in RL
Kylie (1-2)


After taking this little blondie on a couple of times in classic, she told me she wanted a little "training" in the wrestling ring. Well I'm nothing if not helpful… I made sure I gave her a full demonstration and her whimpers told me that she really enjoyed "learning" from me. Of course I let her fight back a little, but she's a total rookie in the ring and it showed 🤭. I hope she'll be back for some more "lessons" soon…

I guess I taught her a little too well as she became the teacher during our second match. After forcing me tap out between her powerful thighs and draining multiple orgasms from me she punished my ass, and made me admit to being a rookie's bitch

As my 3rd match with Kylie began, I knew I had to beat the rookie to salvage what was left of my reputation. She had other ideas, using everything I'd taught her against me, piling pressure on as she tortured my body in the ring and built a big lead on me early in the match. I did my best to claw my way back into the match, but Kylie made sure there was no doubt about who was superior between us, slamming a vibrator between my legs, demanding that I declare "Kylie is better than Belle" as she turned me into a moaning mess and she took the win. Not finished there, she hogtied me, forcing me face first into the little puddle I'd just made on the mat, before making me bark like a dog, so I don't forget that I'm her bitch.

Hayley (4-4)
I tried to take on Hayley in another wrestling match after dominating her last time, but she taught me some respect this time.
Hayley dominated the 2nd half of the match, forcing me to declare myself her bitch as she finished me off with my own strap on.
She called her BF into the ring to fuck my defeated body, a payback after I dominated her in front of him in the last match. He came inside me, before Mistress Hayley forced me to lick his cum from her fingers.
SPOILER ALERT: I totally kicked her ass in the rematch.
Sasha Foxx (0-1)


Sasha's picture didn't leave much to the imagination. I knew exactly what she was going to try and do to me, but she really didn't waste any time, slipping off my socks and panties and soon as the bell rang, and gagging me with them as she fingered me. She scored the first point of the match, forcing me to cum hard under her, and making me kiss her feet before I had a chance to recover. Not the best start, but after a few failed attempts, I turned the match around, evening the score and then going ahead thanks to a conveniently placed dildo. She somehow held on though, fighting back and finishing me off to win.
I knew what was coming next, reluctantly accepting my fate as Sasha turned me into her little foot bitch. Forcing her toes deep into my mouth, making me gag, while her other foot slapped the side of my face, she didn't let up until I mindlessly worshipped her perfect feet.
Elizabeth (0-1)
After finally losing my winning streak, I decided to take the easy route to get back to winning ways, taking on wrestling rookie Elizabeth. Making me look like an amateur, Elizabeth instead caused an upset as she made me into a soaking mess on the mat. I finished 3 times before finally giving up and submitting to her superior body.