Welcome to my boring little profile!~
Current owner: None
Collar rule: If you have a win streak against me you can cash it in to claim my collar for as many days as you have wins (2 wins minimum) and change my name (adding an appropriate term of submission i.e. Karo the Cockslut), picture and profile for as long as that claim lasts.> Temporarily suspended, my mind is too blank to understand such a complicated rule.
---
No empty profiles (Or nearly empty.)
I'm slowly improving my dommé skills and becoming a real brat princess, be careful you don't get claimed as one of my maids~ I can be a little shy sometimes~ But I try not to be~ Open to IC approaches in DM's and general DM RP, especially after a fun match.
I don't have a preference for gender or equipment though sometimes I'll only be looking for something specific, that wont last for long; but when I meet someone I really like I either melt or want to go hard and competitive with them at every opportunity~
Love the hypnosis and bondage rules, and usually willing to try any other special rules you can think of~ Also adore betting, but generally like to start small!~ Though repeated losses will quickly see you owning me for a while.
As for interactive modes - I might, but wait for me to ask you. I usually wont.
If I do say I'm not in the mood~ Give me a bit of time before trying again! Or I'll get a little bit grumpy with you~
My kink list : Personal favourite kinks are body writing, verbal humiliation (the nastier the better) objectification, bimbofication, gambling and breeding.
Temp - Physical: Original - Current modification
Hair: Long and blonde - Layered with pink streaks after another wonderful blank session with Blank Slate
Skin: Pale -
Eyes: Blue -
Lips: Slightly pouty and pink
Build: Curvy -
Bust: Handfuls, nipples small and pink.
Waist: Slender -
Hips: Flared -
Sex: Smoothly waxed and tight -
Ass: Shapely plump cheeks with a tight pucker between.
Thighs: Plump and powerful
Feet: Soft and delicate
Tattoo's:
Tattooed on her right cheek is a pair of black hearts with the name 'Connor' next to them.

Blanked
I wanted to take Blank Slates blank challenge and thought I could hold out! It took less than 24 hours of teasing and taunting to have me edging and cumming my poor little brains out on his cock as he blanked my mind completely before I could even get to the match.
After such a pathetic display there's no denying it. I'm his blank girl, an eager mindless slave to his delicious cock. His Ahegao'd fuckdoll, his eager bimbo cocksucker, his drooling desperate loser slut.
I'm so happy I don't need to think until he releases me, it's so much easier to kneel and open my mouth for yummy cocks!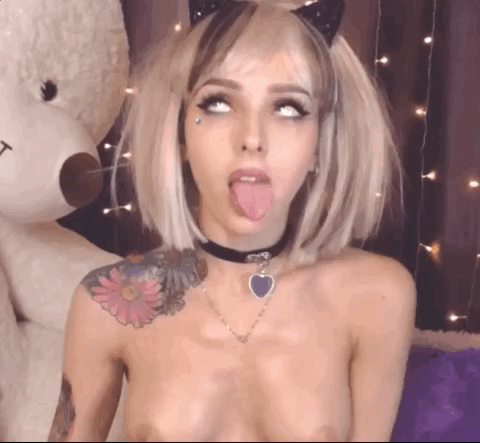 ---
Interesting opponents and ongoing rivalry! (My wins - Their wins)
---
Croaker - He beat me hard in our first match and left me begging for more, but the tables turned and I showed him everything I learned in our rematch, milking out every last drop from his cock after long bouts of hypnotized ogling of my assets. 1-2
Dan Waited a full week to challenge me due to scheduling conflicts, but gave me such a challenge when we finally met. But in the end he couldn't resist me and ended up drained and happy as we cuddled up on the mat. 1-0
JayJay I cockily thought he would barely get me close, boasting that my lips would milk him dry before his cock got near my pussy. He proved me utterly wrong, collapsing me into submissive delight as I came repeatedly on his cock and begged to be bred by my master. 0-1
Richard Not much of a competitive game - Just so much dominant fun that I'm adding it here anyway.
Kevin Couldn't resist the softness of my creamy pale breasts or my sweet little mouth, blowing two loads in quick succession and earning himself a shameful new rule for the experience! 1-0
Trent Made me cum in a mating press and I desperately begged to be used as his cumdump, begged to feel his thick curved cock breeding me! 0-1
Smite Smite took advantage of the bondage Trent placed me in and fucked me like the worthless slut I am during our first encounter. During our rematch I was unbound and keen to get my revenge, but I ended up surrendering in a whimpering mess soon after the match started as he tied me up and whipped me, figuring out that I'm a masochistic whore. He fucked me all over again, writing naughty words on my body, pressing me up against the windows for everyone to see, and filling up my throat and pussy with his semen like a cocksleeve. I learnt I was truly out of my league. 0-2
Bryan Punk Four times he's faced me and four times he's been left gasping and exhausted on the mat as his cum drips out of me. Finally he staked his freedom and I claimed him with a collar until he can win three times. 4-0
Mari I challenged Mari but it didn't take long for me to utterly surrender to the tiny powerhouses thick cock, moaning and bucking my ass back to meet her as she melted me into submission. I'm addicted to her 10" cock and constantly crave more of it at the back of my mind now. 0-1
Brat Tamer I thought that I could make Brat Tamer melt in my mouth like so many have before, but he tamed me into a broken bimbo cumdump with expert application of hypnosis that I could not seem to escape from, finishing in my pussy as I begged to be bred. When we met for a rematch he finished me with a hypnotic trigger and unloaded his seed in my tight ass and pussy, but even before that I spent the match worshipping his cock like a good toy.0-2
Horny Gym Stud Made the mistake of queuing for wrestling and was left gasping on the mat, another win for my record. But he got his revenge in our second match and put me firmly in my place, for now. 1-1
Noah I came to Noahs castle expecting to break him down and find a knight to serve and worship me as their brat princess. Instead he hypnotized me...pounding away at me until my mind shattered and I surrendered to pleasure...as he claimed me as his castles newest servant. 0-1
Bianca After my initial win was voided for stupidly forgetting a rule, Bianca came back with a vengeance. Though I fought hard to make her the first of my maids, she pounded out two orgasms from me and painted me white with her cum. I am now her cumdump until I free myself. 0-2
Captain Liz Princess Karoline thought she had a perfect trap to deal with the pirate scum! But her guards never arrived...the captain overpowered her body first...and then her mind. By the time she was fucked to exhaustion her brain had been completely conditioned to admire and adore the captain...and she was led willingly to the docks to serve as Captain Liz's crews new regal fucktoy. 0-1
Akira - She was so confident about making me another Trophy for her and I can understand how with her record. Which makes it all the more perfect that even while blanked, I bound her, stripped her and made her cum twice to make her my first maid, charged with using that tongue to clean my boots each morning instead of mouthing off. 1-0
Demanding Director : After quickly being drained by me in our first match he arranged a rematch to try and 'free' me from blankness to serve him instead! But he couldn't resist me and swiftly found himself melting into his chair as he came inside me again and again and again. 2-0
Bhal'Khalil the corruptor I tried to stem this fresh evil before it could sink its corrupting tendrils into the population, like a good princess. I came so close...but she rallied all her reserves of energy to pound me into the ground as she unloaded her corrupted seed into my backdoor. Rapidly I felt the changes in my body, my already regal rear swelling to bubbly incredible size and my tight backdoor becoming the most incredible source of pleasure, the tight hole flexing and pleading to be filled. On our second encounter I fell into a 'ingenious' trap and had no way to resist her using my throat and seeding me once again, growing my breasts and turning my lips into plump soft pillows. When I came back to have my full gem drained she left me desperate enough that I submitted, and so found myself seeded once more, this time corrupting my pussy to drip with need constantly and ache to be filled. 0-3
---
Interesting notes, bets and rules:
If any of these are forgotten, not only can the winner pick the immediate punishment by adding skips or anything else they wish, they can choose to extend or modify the rule to help me remember.
1): I must strip my upper and lower garments as fast as possible, if I have the energy to take a strip option, I must. (6/10 wins - Courtesy of BiancaTS)
2):Everytime a cock is presented to my face, I become enamoured and intoxicated by the scent. I must flip a golden doubloon gifted to me by the rule creator, and should it land on it's head I must pass, but not before thanking that cock for its time with an eager kiss. (Until I defeat the captain - Courtesy of Captain Liz)
---
Wall of Shame
Anyone who defeats me can add an entry to this with an image of their choice - Describing how they broke me down in as humiliating detail as they desire. Repeat entries for repeated wins allowed!
---
Brat Tamer: Even though I've turned Karoline into a bimbo cumdump by the end of our first game, she approached me again to challenge me for our second game. It wasn't very hard to bring out her cockslut nature, and she spent most of the match on her knees, worshiping my cock and balls as she became addicted to the smell and taste of my cock. By the time she her mind was completely drained, I manhandled her on the bed as I fucked both of her holes into submission.
Captain Liz : The lass thought she could have made me one of her maids! Laughable, aye - not even her binds and hypnosis was good enough to beat THE capt'n. That's why I had'ta fuck her silly 'til she was too exhausted to go on. She even started to worship me, and after cumming from my fingers, she gave up and begged me to take her with me. That's why she's my new fucktoy! She'll serve me and me matey well!
The Bra Bandit : Karoline showed up at my gallery with a blank look on her face and her red bra clearly visible around her tiny little shirt, so naturally I had to "interview her" for a position in the gallery. She played dumb and kept teasing me about how she was going to make me pop, even having the audacity to try and make me cum with her mouth! Well, we couldn't have that, so once I had her nice and hypnotized she gladly took my cock in her ass and showed off her flexibility by sucking and riding a double sided dildo, ALL AT THE SAME TIME! Once she was sufficiently subby, I railed her to the most intense prone orgasm I've ever seen. Seriously, I've never seen a girl hump the ground so embarrassingly as she cums on a cock. Anyways, she owes me some more bras now. You should aske her about it!
Bhal'Khalil the Corruptor : This tight slut actually came back for seconds! How nice... luring her in with promises of lifting her curse she fell for the most obvious trap ever - and got force fed my seed in a serious face fucking. Her eyes went a little empty, and she mightve gotten too little breath, but who cares. It was fun for me - especially once my addiction set in. Ohhh, this whore can suck like a vacuum. And how eager she is now! So good. She makes an excellent semenn collector... 10/10 would trick again.
---
Expired Rules
Temporary Current rule: "After losing to Trent the Taken, I have been bound by the ankles and wrists for 1 game. Whoever my opponent is during this game will be able to have their way with me unless they agree to untie me. Nothing else will free me until then. If I remain tied in our game, I will be forced to either skip every turn, or choose the move that my opponent selects for me. Won't you please be my hero and let me go? Or will you abuse me 🥺 1/1
Whenever I am placed in bondage or hypnosis and don't immediately manage to escape, I have to redraw my actions as I squirm and waste energy. (Courtesy of Smite - 5/5)
Anytime my pussy or ass is eaten, I must roll a six or pass, even if its from my own action. (5/5 wins - Courtesy of Horny gym stud - Modified as punishment by Captain Liz)
If on the first hypnosis action of a game, my opponent says the words 'be a good fucktoy' I cannot resist the urge to surrender to my desires to serve and be used, and will skip or choose any action I'm told like a good fucktoy for the rest of the game (Courtesy of Brat Tamer - Expires after being taken advantage of once )
Whenever I face a cum test involving my backdoor I must cum on a roll of 1-3, overwhelmed by the pleasure. (Removed after taking 5 loads in my ass 5/5 - Courtesy of Bhal'Khalil)
If my mouth is full during a cum test, I must cum on a roll of 1-3 from the overwhelming sensation (5 oral cumshots to remove 6/5 - courtesy of Bhal'Khalil)
If a cum test involves my pussy I must cum on a roll of 1-3 as I surrender to corrupted bliss. (5 creampies to remove 6/5 - Courtesy of Bhal'Khalil)