So many self-avowed "dommes" and "boy breakers", so little time. Are you one of them? Do you think you have what it takes to fuck a man into submission? If so, you're just the woman I'm looking for. I've made a hobby of breaking and taming bratty, overconfident sluts and adding them to my Collection, and if you're the type that thinks you can actually best me, then you're going to be next. But feel free to come and try, perhaps you'll prove me wrong.
---
UPDATE: It's been over ten months since I arrived in EroFight City, and things could hardly have gone better. Fighter after fighter has fallen before me. Overpowered, outfucked, and then dragged through a back door to be bound and displayed with all my other trophies. My gallery -- now open to the public -- is lined with the beautiful, captured bodies of women who thought they were going to teach me a lesson. You should come and visit sometime...perhaps you'll even stay for awhile...
---
Hi Everyone! I'm a friendly (don't let the character fool you) switch-leaning-dom looking for fun RP where we are each fighting to dominate the other. Clearly I've got some hard-edged kinks, but ultimately we're all here to have fun, so let me know what that means for you! I love bets, and am down for Hypno/Bondage or other rules that you like (but also happy with the regular ruleset). As you've likely surmised, my goal in most cases is to defeat you and add you to my growing Collection, but that can mean as much or as little as you like. It can be a one-off fight or an ongoing roleplay, as you prefer. Feel free to message me if you've got any fun ideas for an erotic showdown!
Currently on display in The Collection
Newest Exhibit
~Dreams Deferred~
Jeanne is about as well-known a fighter as there is at EF, so when she issued me a personal challenge, I could not help but accept. The veteran of hundreds of sexfights, she thought she'd add to her legacy by burying my reputation, along with my face, between her thighs. Suffice it to say, I had other plans for this buxom toy. Our battle was brutal, and she almost had me more than once...but as I told her, "nearly" means nothing in the realm of sexual submission. After staving off her last, best effort, I dragged her into my lap, speared her on my cock, and finished her off. All her dreams of claiming the Collector shattered in a will-breaking orgasm. Now the famous Jeanne is just another prisoner in my gallery, her curvaceous body forced to squirm and cum over and over upon a sybian for the entertainment of my guests. Visit her at exhibit V, and you might get to hear her mewling through her gag about how close she came to winning.

Greeter
As you descend the grand staircase, you are greeted by a toned, raven-haired beauty chained kneeling to an X. She has a soft stare and a friendly, talented mouth for any visitors who want to be welcomed to the Collection properly. Her chains jingle slightly at your approach as she raises her head to you. Stray strands of hair stick to her face around a messy, but warm, smile. She coos quietly when the vibrator between her legs hums to life, triggered by the arrival of new guests. It's hard to believe she used to be a ferocious fighter...when now she attends to her duties as greeter so fervently.

Centerpiece: The Bound Queen
Your eyes are drawn to a gorgeous, statuesque woman hanging artfully in a new, featured exhibit at the front of the central ring. Approaching closer, you see it is none other than BDSM Stacy herself, EF's Queen of Bondage, bound in tight, delicate rope bondage and suspended from the ceiling. I have lusted after Queen Stacy since I joined EroFights. A former champion whose name is whispered amongst the men of EF with equal parts admiration and fear, and whose punishments for the men she breaks are legendary. And now she is mine. In a coup for my Collection, I travelled to Stacy's chateau to challenge her, knowing full well I'd be spending time in her dungeon if I lost. Instead, I bested the queen in sexual combat, fucking her into a mind-shattering orgasm, and then caging her royal pussy in her own bed. Now she is on display as a testament to the fact that even the great fighters of EF are not safe from my Collection.
Update Following a failed escape attempt, Stacy has been granted a more intricate display that should keep her out of trouble. Velvet rope rings her exhibit, with new signs warning visitors that she is not to be touched or stimulated in any way. Instead, her denial now extends to any physical contact whatsoever...at least until she attains a more cooperative attitude...

Centerpiece: The Scarlet Slave
This gorgeous woman put up quite the fight. It took some extra effort to drag her into submission, but when she broke, she broke hard. Now she's one of the most popular exhibits in my gallery, bound and spread as she hangs in one of the display spaces in the central ring, where everyone can admire her conquered form.

Centerpiece: The Day Spa
This anal slut practically put herself in my gallery. She just can't resist the thought of being bound and fucked. So I'm giving her a short-term taste of life in the Collection -- stretched wide in rope and metal, and constantly stimulated, with her [ass available to be stretched back out] any time.

Centerpiece: The Honeymoon
These two lovebirds were recently engaged and married. Sadly, I did not get an invitation to the wedding, but that doesn't mean I can't celebrate their love in my own, special way. I defeated both of these beauties in the same evening, fucking them into submission and then returning them to my gallery bound in rope. How ironic that I was the one tying the knots. Now they're one of my most popular displays, locked in loving servitude in one of the prime spaces in the central ring of my gallery. Their positions are reversed every two days...marriage is all about shared responsibility, after all.

Sara was one of my earliest additions to the Collection, before being briefly rescued by Catlyn. Her freedom didn't last long though, and now she is back in my gallery, locked to the floor along the front of the outer ring so that guests of the gallery can step on her pretty face on their way to other exhibits.

Red Bimbo -- As her name suggests, this lustrous redhead was hardly any trouble at all. After breaking her pathetic resistance, I added her to the front of the gallery as a nice. obedient drink server. Feel free to leave send her for refreshments, or for a more personal treat.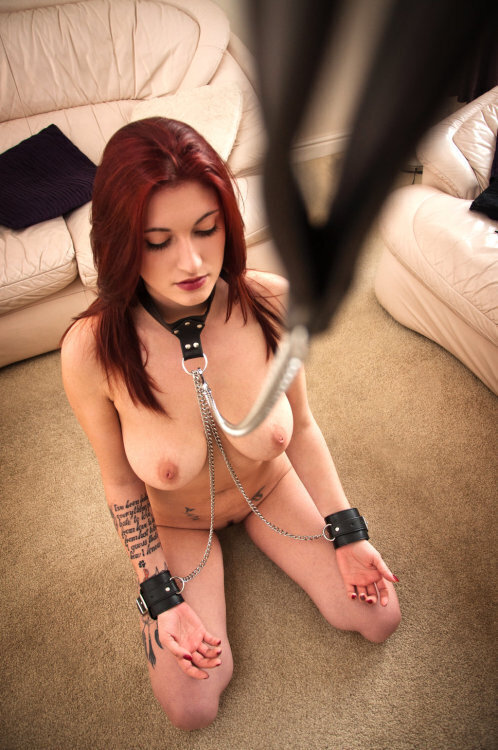 Cassie is everything one could want in a trophy. A beautiful, confident mistress with an established history of breaking both men and women. I could not help but want to test myself against her, and sent her an invitation to my mansion, believing she would feel the same. She accepted with a true sexfighter's confidence, declaring that she would lead me out caged and leashed. Our battle was brutal. Bodies and minds clashing for dominance, each trying to sexually subdue the other, knowing the price of defeat. Though she fought fiercely....inch by inch, piece by piece, I wore her down -- pinning and teasing and fucking and exhausting her -- until finally with her arms trapped and her pussy speared I ripped an orgasm and her freedom from her . But I did not stop there. With her weak and at my mercy I bound vibed her...tormenting her conquered body until she passed out choking on my cock. When she finally awoke, she was trapped in the web of rope you see before you. Her limbs bound taut, and even her head held tight in a face harness. She can only moan into her gag as the sybian between her legs hums at its lowest setting, keeping her tortured and on edge...but unable to satisfy herself. Another reminder of what happens to those who challenge me and fail.

This wannabe goth domme barged into my mansion looking for a challenge, sure she'd be adding me to her own collection. Too bad she proved to be nothing more than a foul mouth and dark make-up. This frail little flower didn't even make me cum once before she surrendered to me, shaking and screaming. So I bound her, washed off her makeup, and let her look at the pathetic, easily conquered girl beneath the facade. She'll fit in nicely with all my other tamed trophies. Come and visit her on the west end of the outer ring.

This cute little cockslut nearly caved completely just tasting me...though she did manage to put up a decent enough fight before I lifted her into the air and fucked her into screaming submission. Once I had her broken and brainless, I made her choke on my cock until she was tamed and addicted to its taste. Now you can find her along the side of the outer ring, tied down and blindfolded with her needy mouth available to gallery guests.

Every once in a while, I like to toy with my prey. I had my eyes on this blonde beauty from early in her promising sexfighting career, so I decided to build up some suspense by sending her several--let's call them "mementos" of my plans for her. Then, once I had her constantly looking over her shoulder, I gave her a choice: surrender herself willingly...or be conquered and punished for her resistance. She chose to flee, which only gave me the extra pleasure of hunting her down in her countryside hideaway. She was foolish to think she could escape my interest, and when she returned to EF City, it was wearing nothing but rope. As penance for her refusal to submit, she has been tied to a sybian, which keeps her constantly tortured to the point of madness. You can follow the sound of her moaning to exhibit III on the east end of the outer ring.

Magic users can be a troublesome lot, so when I come across a pretty mage that I want, I find it's best to be proactive. After consulting with some contacts in the magical community and acquiring a few useful tools, I lured this not-so-clever little sorceress into a magical snare. Thinking she was stealing from me, she was actually stumbling into my trap, and once it had sprung, she was helpless to prevent me from claiming her. Now her body -and- her powers belong to me. Stripped of her magics, she is just another lovely display squirming in her restraints.

Yet another mouthy brat who thought she'd stroll into my home and free my Collection. She hardly even put up a challenge as I pinned her down and destroyed her with two straight anal orgasms. Let's hope she enjoyed them, since she only gets to cum when I say so from now on. Now she can hang on display in my gallery thinking about her fate. Feel free to tease and taunt this denied trophy on the east side of the inner ring.
Update: Now pictured being punished for an ill-fated escape attempt.

Jenny thought that just because she'd started 4-0 she was invincible. Some women just have to learn lessons the hard way. In Jenny's case, that means getting beaten and bred in her first loss, and then having her weak pussy put on display for all to enjoy. She now anchors the south end of the outer gallery ring, where her defeated sex greets visitors on their way to the deeper sections of the gallery.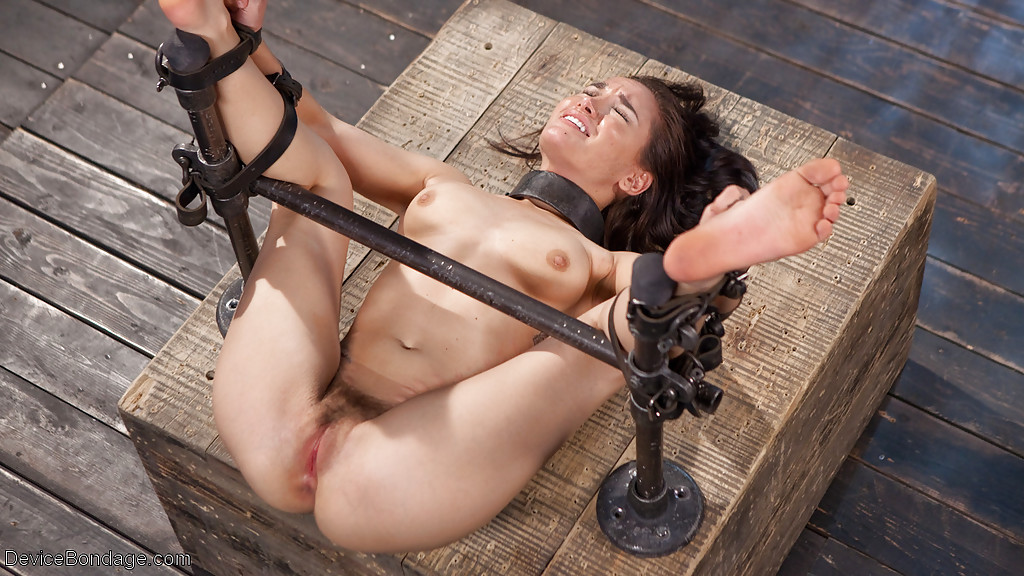 Cassandra challenged me to a duel in the ring, believing her wrestling skills would best me where others had failed. I accepted, of course. How could I decline the opportunity to add a bronze-skinned beauty to my gallery? She fought valiantly...grappling and battling with everything she had. But it was not enough. I wore her down bit by bit, first physically, and then sexually, reducing her from a proud Greek wrestler to a moaning whore. In the end, I pinned her face down on the mat, legs spread and arms twisted back. Her strength and technique failed her, and she was unable to escape my pin or resist my cock as I broke her. She came again and again before finally passing out from the pleasure and humiliation of her defeat. Now her lithe, muscled body is strapped to a post at position VI, bent over and presented like the needy tsouli she is.

Sometimes one has an appetite for something spicy. How lucky for me that this lovely Latina wandered into my path. She managed only a brief struggle -- some girls need only the slightest push to tumble into submission -- which left me extra time to enjoy her slowly. Her trademark sass drained out of her quickly, leaving only the moans and mewling of her pleasure. In the end, the leash on which she was led into my gallery was hardly necessary...she knew where she belonged the moment I laid eyes on her. You can find her at position IX.

I found this Filipina goddess on vacation overseas. She was prowling local tourist bars, taking advantage of unwary men with her dominating, feral sexuality. Unfortunately for her, there were two hunters in the bar that night. So when she thought she was leading another easy mark to a back room, she was really sealing her fate. Though she fought fiercely, she was ultimately no match for me. I fucked her into a stupor and then whisked her out a back door to my private car. She won't be doing any hunting anytime soon. Now her conquered sex is on display in the southwest wing of the gallery.

Kuuko wandered into my mansion wanting to prove herself against one of my trophies. She succeeded well enough, easily binding and embarrassing Ashley while I looked on. But of course, that only marked her as a worthy addition to my Collection. Suffice it to say, I decided not to let her walk out of my mansion. Her considerable charms proved futile against my designs, and in no time at all I had her bent over her previous foe, begging for me to claim her. She may be known for her many and varied wardrobe changes, but her bare, conquered sex is on full display as the latest addition to my southeastern wing.

The moment I saw this Japanese beauty, I knew she'd make a perfect addition to my Collection. She proved to be a devious quarry, but her tricks could not save her in the end. Once she was mine, she attempted to prove her worth as a gallery attendant and enforcer. At first she seemed mildly useful...but after a string of humiliating failures, she's been demoted to the role of bound fucktoy. Come and enjoy her in the southeast wing.
Update: This exhibit is available for loan. This is a limited time offer to personally enjoy one of my trophies. Inquire inside. (This offer is, naturally, subject to her approval, kinks, and limits.)

.
Poor Nicole tried to free Jessica, but she didn't have a chance. I tamed her easily, and now she's tied up alongside Ashley in the southwest wing. She loves being touched and toyed with as she hangs in her binds, so don't be shy. She makes the prettiest moans whenever I play with her. Update: Nicole was freed in a daring midnight raid...but her freedom did not last long. Ashley was more than happy to prove her subservience by hunting Nicole down and bringing her back broken and wet.

Raya thought that her years of martial arts training gave her the right to gloat and trash talk her walk her way through the halls of EF. So when a chance encounter led to her belittling my skills, I was more than happy to demonstrate the fine -- and not so fine -- distinctions between tae kwon do and sexfighting to her. I dominated her completely, stripping her of her clothing, then her pride, and then her freedom. In the end...all of that training merely made her a well-toned fucktoy. You can find her dangling in rope in my southeast wing...one more cautionary tale to those who's pride outpaces their ability.

Ashley lured this cute little engineering nerd into my clutches, offering her what she thought was an introductory match but was really a fight for her freedom. She had a few tricks...a few things she'd read about. Typical straight A student. But none of her studying really prepared her for an actual sexfighter. I had her stripped and moaning in no time...and I finished her by trapping her between my cock and a window, slowly choking the last of her resistance out of her. Now she's hanging in my southeastern wing, no longer needing to worry about her classes.

|| The Cellar ||
Running a collection of this sort is not without its problems. For instance, on occasion a trophy will come into my possession that hardly deserves the name. Some sexfighters, put simply, are not fighters. So what to do with those who have not even earned a spot in the main gallery? Another problem: Sometimes guests find themselves worked up by the beauty of the exhibits and in need of some relief. What to do, what to do? Of course...an elegant solution readily presents itself. Those who fall under my sway too easily do not deserve the honor of display. Instead, they have earned only the humiliation of their free use.
The cellar is a modest, dimly let room down a dark set of stairs tucked beneath the grand gallery staircase. A handful of platforms and restraints are arranged in a shallow semi-circle, some of which have women locked into place. Though their positions differ slightly, each is presented ready for use. such that anyone entering the room is presented with nothing more than a selection of faceless toys. None of the women are labeled or named...their anonymity part of their punishment for not even fighting their subjugation.