About Me:
Hey there, I have been playing this for a bit but really only against bots. Its nice to meet you and hope everyone has a fun time. As for things I like, its pretty much whatever you enjoy doing, I am pretty flexible when it comes to following along. More interested in roleplaying things out through chat in game as opposed to simply picking actions, with the chat length being from short to medium length, though again I will try to match whatever length you use. Other then that I look forward to having some more fun on here.
while I do lean more submissive then dominant, I am still more then willing and able to put whoever I need to in there place.
as for a glimpse into what I look like, I have many similarities to my pfp, brunette with brown eyes, B cup bra size, 5'5" slim to average figure. just a nice small package full of fun and kindness (with a hint of spice when needed...)

my personal favourite area to play is usually LWR and classic but can play others as well. the outfit I would be wearing would match my profile pic in most scenarios.
LIMITS: the usual toilet play, blood, gore. my kinklist has a few more and if you don't see something mentioned in either the kinklist or this list feel free to ask, there are a lot of kinks I haven't even heard of before
---
The general kink list for those who want a full view of things (or dont want to see hot pics below...)

Olivia
so while I typically just keep my mentions of people in the summary section below I was made to make a small exception. Basically while having a match with Slash (summary of that below) Olivia had stumbled into watching the match, and quickly was rooting against me (for whatever reason...). I dont want to spoil to much here as I will have a summary of most of it below, but basically I have been exposed as a slut when fighting her, and I will continue to be so until I beat her.
Favourite kinks:
while I do enjoy most things, there are some that I do enjoy just a little bit more...

something something i love cum something something...

me after barely losing to someone

yeah so dont do this ok. I definitely dont like being in this position.... (wink wink)

I'm sure you can find ways to shut me up from teasing and trying to win

and you can't forget bondage of course...

and don't think its only men that I like, I am more then willing to fuck the ladies with or without help from someone else

my time here has shown me that the thought of making out with other women really turns me on...

what happens when someone doesnt take me as a serious threat in either TWR or LWR

sometimes just 1 on 1 is not enough for everyone

a recent one i have found is the overall thought of chastity, not something that can always be included but when done well can be very interesting
---
My Love Hate Relationship/Rivalry with Tanya
So after a couple very unlucky loses I have now had the task of moving this up here. As i am sure many of you know Tanya is a wonderful person and I have the upmost love for her, that being said... that doesnt mean I hate her for all the losses you can read about below. But you will read it here first I will turn this record around, and it will be her that submits to me! until then though I am unfortunately her slut but we dont have to bring that up...
so depending on when you are reading this there might be a slight elephant in the room to talk about. So I decided to have a match against Tanya and may have been a bit horny by this point in the day making me a little over confident in my abilities... and made the bet that the loser would submit to the winner for a week. After some trash talk we finally got into the ring together, starting off pretty neck and neck, as we kept fighting for dominance, me teasing her for not being very "queen" like and her insisting I would be a slut for her. The start started to lean into my favor as I repeatedly went back to fingering her pussy again and again no matter how much she tried to push me back. About half way through I managed to trap her into the corner, using the time to rub and finger her pussy while she stayed trapped. While I kept trying to get the win here she managed to wrap her arm around and begin to finger my ass, leading to an intense battle of wills as we stayed pressed up against each other trying to make the other cum first. Eventually I had no choice but to back away and catch my breath, clearly closer then her to cumming. unfortunately she caught me and went back to fingering me as I was on all fours catching my breath, forcing me to use everything I had to roll her off of me, going for a 69 as she managed to keep her fingers in my ass. *with a final burst of power she rolled me onto my back and began to furiously finger my pussy, praising her victory and pushing me to cumming. Despite my best efforts to squirm away I eventually succumb to the pleasure and cum onto her fingers. And while I may be her toy for now I will get my revenge some day.

So as my week of servitude to Tanya came to a close I challenged her again knowing I could beat her, with the winner getting the loser to serve them for a week. I was not looking to lose again this time so I wasted no time and stole her clothes while she was getting ready so I had a head start on things. After some back and forth in teasing and playing with each others pussies I managed to tie her to the bed spread out. There I had my fun teasing, licking and fingering her pussy all while she struggled around and "pretended" she didn't want it. After she broke free from that it was some more back and forth until she went for an early cum test, trying to finger me hard and deep and catch me by surprise, fortunately I was able to hold myself together and resisted leading to a challenge we brought up as a double sided dildo was added to the fray, both sliding down on one end and thrusting, I took a chance and reached under to rub her clit and get her to cum but again she was able to resist. Both of us were determined to make the other cum on the double ended dildo thrusting harder and harder as we both rubbed each others clits, though unfortunately for me she managed to push it deep enough to hit my g-spot, mixed with the rubbing and thrusting just enough to take me over the edge and be the first to cum. After she tied me to the bed thinking she would have an easy time finishing me off but after I recovered from the orgasm I managed to escape and decided it was my turn to take control, using the same rope used on me and using it on her, restraining her and shoving her down on a sybian, which by this point was more then enough to get her to explode on it making it anyone's games again. Again some more back and forth as we kept pushing each other closer and closer, knowing the next orgasm would likely be the deciding one. Finally she would tie me down, toying with me knowing she was about to win, teasing me and already declaring herself the winner, and once she was ready to win she quickly shoved a wand on my exposed clit and held it there until I finally had no other option then to cum, ending the match and once again unfortunately not able to beat her again. Next time though it will be me winning.

Not wanting to take no for an answer I once again challenged Tanya to a match, knowing I was on the cusp of beating her last time and knew I could do it. She accepted with the stakes being that the loser would have to have to submit for a session to the winner. I accepted the stakes as again I was confident I could win, the match starting a bit more sexual then most wrestling matches, with both of us making back and forth attempts at rubbing and fingering each others pussies. Shortly after we were gunning for the other ones ass, with the actually wrestling aspect thrown out the window as we both were determined to get the other to cum first. The first test coming when she held me up above her and pushed a vibe right onto my clit, making me struggle and moan as I teetered on the edge, barely able to resist and escape before cumming. By this point we were reaching a similar spot like last time where the next women to push for an orgasm would likely do it and knowing this I went in for the kill as I dove in between her legs, licking, kissing, sucking, everything I would want done to me while I tried to push her over the edge by eating her out. Against all odds (literally after checking logs only a 10% chance to pass) she managed to hold on, leaving both of us panting and exhausted, but still not deciding a winner. I would again try to dive in and eat her out again, but having it backfire as she rolls through, and then starts eating me out instead, leaving me folded up with my feet by my head as she looked down, devouring my pussy that has been teetering on the edge for some time by this point. Despite trying to struggle free she managed to hold me down long enough, leaving me no choice but to again cum, losing the match again while being so close... To make matters worse she took a victory lap and didnt stop as she keep using me until she herself came. Now I await being at her full mercy for a session, but those reading this will have to imagine what the two of us will be doing...

Despite taking some losses I was not going to let that stop me, I know I could beat her and once again challenged Tanya again to a match. This match however had many extra rules added, and to keep it brief there was many edges done between the two of us by the end of the match. Thinking she would be overconfident and not do anything dirty I was sorely mistaken when I got out of the shower to see her running away with all my clothes. Not letting that deter me I rushed after her, now naked as I caught up to her. With some tricky hypno tricks I finally managed to subdue her for a moment, letting me bring the pace back into my control. I then managed to get some rope out to restrain her, again using it to wear her down, of course that was not going to end it this soon. By this point there was a lot of back and forth bondage/hypno related stuff, many edges, much rubbing, was quite a long and intense match. The first orgasm came from when after some back and forth fucking Tanya caught me in a hypno, making me grind against a pillow (on top of some irl edging as well) leading to me cumming and being the first to do so. but not the last orgasm to be had this match. Sensing her having the upper hand she went for a quick back to back orgasm, luckily I was able to hold on and not lose almost immediately. trying to fight back from the first orgasm I tried to fight back. but again she managed to tie me down, and using a vibe was able to get yet another orgasm out of me while I couldnt move. Despite being a bit hazy from the orgasm I did a last ditch effort to hypnotize her into humping my thigh to orgasm. and lucky for me she wasnt prepared and ended up doing just that, cumming on my thigh, now both of us laying on the bed from orgasms. After we recovered a bit we kept fighting, both of us feeling the effects of cumming and edging constantly. I eventually manage to trap her in another hypno, making her ride a dildo to another orgasm, tying the match at 2 orgasms a piece. With both of us exhausted and our our pussies sensitive to the touch from all the pleasure, I kept pushing, knowing I was getting close to putting her away. and after some more wreslting around for the right position, grabbing her by her hair, I dragged her over to the sybian in the corner, giving her a kiss and sitting her down on it. Holding her down as I set it to max, and with some extra teasing in her ear, she finally gave in, cumming for the third time and showing that I was capable of beating her.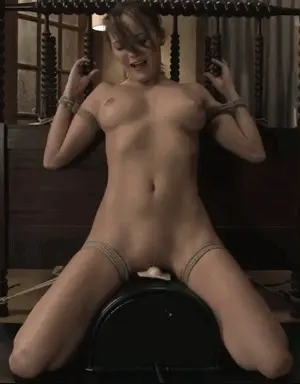 Not wanting to give the impression my win was a fluke last time we had another match, this time in classic with the stakes being a week of servitude and the first to cum twice losing the match. I didnt want to take any chances and knowing she did it to me before I swooped in and stole her clothes in the beginning, wanting to waste no time getting her to cum. Of course Tanya was having none of it as pretty soon after she had me tied up and at her mercy, fingering my exposed vulnerable pussy while i squirmed around. Putting a collar with "Tanya's Slut" on it on me while i continued to struggle around. Even as i fought out of the bondage I would almost immediately get hypnotized by her, follows by a haze of me laying there as she stripped my naked, sliding a strapon on and fucking me while i lay there in a pleasure filled haze. Eventually as she kept fucking my body finally gave in as she made me cum on her strap, snapping me out of the hypnotic haze. Still recovering from the orgasm I tried to even teh score, but Tanya was quick to prevent everything i tried. I even used the same hypnotic technique as her and watched as she grinded herself along her vibrating wand. After this failed to make her cum it quickly went downhill for me, as she would begin to effortlessly move from move to move, fingering me, licking me, fucking me, non stop as i failed to stop it. The end of the match consisting of her strapping me to the same sybian that has claimed so many orgasms between us, tying me down as i moaned away, barely holding on. Despite my best efforts she kept turning up the strength and whispering in my ear to cum, and with nowhere to move I couldnt hold on anymore as I came again, losing the match in a much more 1 sided match then I was expecting to have (but bad rng will do that...)

About half way through my 1 week of servitude we got together for another quick match, if I won I would get some time removed from my punishment. This time returning to LWR and wasting no time trying to make the other cum I went straight in, trying to make her get her going as i rubber her pussy. This match already having way more back and forth then the last match as we were wrestling around, trying to push the other into cumming first. About mid way through the match I started to really get a groove and was teasing her again and again, getting edge after edge out of her but failing to make her cum. She would swing things around in between and getting some edges out of me, which was already much easier given me not having cum for several days by this point. Again and again I would try to make her cum, with her barely holding on. The sortof finish to the match saw her pin me down, fucking me as she choked me, and despite trying my best to hold on she wouldnt stop at the arranged 2 minutes of fucking, and going an extra minute, which was just enough to bring me over the edge as the orgasm rushed through my body. (to be clear this was more a mistake that I didnt mind as I did find the concept of it hot, there isnt any legitimate cheating going on and i didnt mind the outcome). Not wanting to end it there I challenged her again, knowing she only won by cheating. I went straight on the attack as I held her down and fingered her, getting more and more edges but no orgasm. We fought back and forth and without noticing she had brought a wand into the ring, and holding me down and turning it to max, taunting me again as she knew she had me right where she wanted me, moaning and struggling to hold on, ultimately failing and cumming again without her cumming at all. Safe to say I will have to strategize some more for our next fight.

So the match i am about to summarize was important in the sense that I may or may not have put anything she wanted on the line should she win... which in hindsight may have been a bit over the top... but i was confident I could win, and was determined to prove it. The opening chunk of the match saw her take control, but was quickly flipped into moaning and edging for a sizable amount of time, so long in fact I have some respect for it... That being said I was doing everything I could to her, rubbing her clit, fingering, fucking, licking... you name it I tried it but she would not give in. We even went to the showers to keep it going, and despite another lengthy assault she held on. As we finished up there we would head back where she tied me to teh bed and began her attack back, fucking me relentlessly for what felt like forever, now having me on the receiving end and edging for dear life. She would push for an orgasm by using everything at once, wand, dildo and fingers, almost breaking me at the end but managing to hold on, leaving me shaking and dripping however... Knowing I needed to turn the tides soon I went in for the kill, trying to humiliate her in the process by rubbing her pussy with my foot, trying to make her cum while I looked down. Fortunately it was just enough and led to the first orgasm of the match as she finally caved. Not wanting to let off the gas I continued my attack, trying to get enough quick one out and win the match knowing I was teetering on the edge as well. Getting a bit overzealous I shoved my pussy in her face while I thought she was tied down and teased her... however she managed to escape and try to take advantage, almost costing me an orgasm but holding on. Just when I thought I had her finished she squirmed free, tied me so i was standing up and laughed as she waved the wand around. Walking up and setting it to high as she kissed me while pressing it to my clit, moaning and begging I had nowhere to run and was forced to cum. To make matters worse she didnt stop, leaving me bound standing and shaking from the first as she left the wand in place, goading and pushing me to cum again. My body was exhausted and unable to hold on any longer as I came once again, ending the match as I lay there standing tied up, dripping cum and sweat as Tanya basked in the glory of her win.

Attire for each mode (work in progress):
LWR/TWR:
top layer
alternate top layer
bottom layer
Classic:
top layer: (undecided, depends on the scene)
bottom layer heels included
alternate bottom layer
Hentai: TBH
Femdom:
top layer
bottom layer
---
Britany:

if after reading my profile you were looking for something a bit different, depending on the situation I can also use my alt for stuff. By herself she is more for doms/dommes that want a bit less of a fight. However I am also willing to potentially roleplay as both Morgan and Britany (Its Britany bitch!) at the same time to really give you a run for your money if you think you are that confident in your abilities. Any messages for Britany I will be taking instead (she's a bit dense at times) so don't message her message me instead.
Records
I figured now is a good a time as any to start keeping records of my games on here, I will try to add to this for every match but dont be sad if you dont see yours, it might simply not be typed out yet
Bianca : after waiting for days trying to find a time that worked for both of us we finally managed to get a time that worked. Both of us were confident we would win, even setting up bets for it. She was determined to make me one of her many cum dumps, and I was determined to put her in her place. The fight started pretty even as we switched back and forth fighting for dominance. a few bouts of hypnosis almost brought things to a one sided fight as she proceeded to use the time to get my ass ready for her. Luckily i was able to get away before things got messy. After a few more moves I went for my first true attempt at making her cum, though she was ready and held on with ease even despite me using both hypnosis and making her kneel in front of me. The game started picking up steam as she hit me with the one two combo of hypno into full body bondage, and with a wand got me to cum hard with nowhere to go. As my confidence began to crumble I started getting a bit more desperate, waiting for just the right moment before sitting on her lap and stroking her cock while I whispered into her ear how good it would be to cum. Luckily that did the trick and it was quickly tied up 1-1. As we both started running out of energy and both knowing the end was approaching, I took a gamble and after wrestling on the bed for a bit I once again end up on her lap, in the same position I made her cum the first time. Hoping this would would, I got to work stroking and taunting into her ear as she tried her hardest to hold on, though unfortunately for her I was simply to much and she finally came again, sealing the deal and me taking it in the end. Now I taunt her about how she lost to me (which unsurprisingly does not make her happy...) as she declares that I simply got lucky, I guess I will have to do it again to prove my point...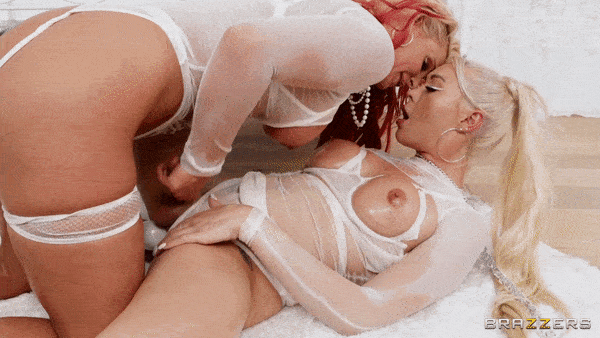 Sexfighter Tanvir : so before I started recording the matches I had a classic match with Tanvir, with the stipulation that if I lost I would become one of his jobbers, well long story short that day was not a good one as I was quickly defeated and became a jobber. But now that brings us to this fight, where we would fight in the wrestling ring this time and my position as jobber again being on the line. It started a bit slow as Tanveer managed to avoid or escape every move I went to make, eventually ending up with my completely naked and him fully dressed. Taking a bit of a gamble I started to pretend to give in and accept defeat, allowing me to quickly even the odds and leave both of us naked. With that out of the way as you would expect the match quickly became less about wrestling and more about "sexual wrestling" wink wink, as we both took turns trying to get the upper hand. Eventually I was able to stroke his cock while locking him in a headscissor to secure the first orgasm. Shortly after he unfortunately caught me lacking and took the moment to fuck me hard enough to have me cum all over his cock. The finish of the match saw Tanvir try to pull a last ditch effort to make me cum, but upon failing and not wanting to take any chances I smothered him with my breasts until he finally tapped and accepted defeat, meaning I have reaffirmed that I am nobodies jobber.

We would get together again for another match, as Tanvir wanted to once again make me a jobber to him. Still pretty confident from beating him last time I accepted, with some extra rules for edging irl (more on that in a bit). Like most of my fights, I usually come out swinging as I went from submission to submission to wear him down, seeing if he had improved since last time. Though I did wear him down a little bit eventually it evened out and was a bit more back and forth for a while. With neither of us making any progress we moved to the main event, stripping naked and getting in 69, testing to see who could last longer. Back and forth we would lick and suck, though I was starting to waver a bit, and despite trying to block him with my legs he got past them and simply wouldn't stop, leading me to be the first to cum. Not finished though he would get up and try to go straight into fingering me, trying to push another one out quickly, but managing to hold on. At this point it is worth mentioning that with some bad rolls the player would have to edge, and this would be the beginning of some edges for one player. Not wanting to waste anymore time though I went for the kill, grabbing his cock and deepthroating it until he had no choice but to cum for me at last, tying the game up. The last third of the match would be me making Tanvir edge again and again, getting to almost 20 edges by the end of the match but still clinging on, not giving up and continuing to fight back, holding me down and fingering another orgasm out of me. While I did get another orgasm out of him by making him cum inside me again, the end of the match was him holding me down and fingering yet another orgasm out of me, and despite my best efforts to cling on it was too intense and leading to me having to give up, losing the match and again becoming his jobber.

Kamikaze Keith : after some difficulties lining up a time to have a match we both finally found a time that worked for both of us. We would both enter the ring and wrestle it out until a winner was decided. The beginning of the match started pretty good in my favor as transitioned from pin to submission and back, keeping Keith on his toes. While there were times where he would catch me slacking and take advantage the beginning of the match was in my favor. that is of course when we got to the second half of the fight. Here my advantage was diminishing as time went on as we continue to battle it out, groping, rubbing, stroking it was all happening as we both started to run out of energy and more importantly closer to orgasm. Despite me trying to make him cum while using every blowjob technique I know he would still power through and not give in. The end of the match became a race to the finish as we were in 69, me on top sucking and him on the bottom fingering, and with some rough dice rolls at the end I failed to keep it together and came on top of him, with Keith cumming very shortly after.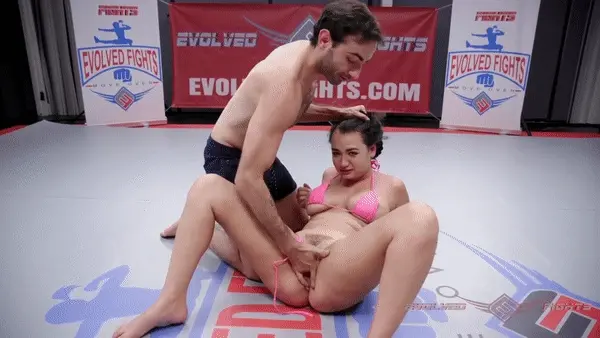 After some time from our previous match Keith and I finally found some time to have another match, one I was long awaiting from my poor showing. Wanting to prove that his first win over me was a fluke I quickly wasted little time taking control of the match, putting him in all sorts of submission holds, whether it be sleeper holds or headscissors, he was being twisted around in my control. Over time though he was able to conserve enough energy to outlast my offense, until he eventually locked me in a sleeper, trying to make me tap out, I struggled out but only ended up in a headscissor shortly after. That mixed with him rubbing my pussy while i struggled to break free and losing air left me no choice but to tap out, laying on the mat annoyed in my decision. After some intense fingering for a minute due to the tap out I was annoyed, rushing him down wanting to get my revenge. Now having given up on the wrestling and going for an orgasm I went from move to move, each pushing him closer and closer. By the end I had had enough and went for the kill, holding his legs up while he lay on his back and rubbed his now throbbing cock with my foot until he finally gave in and came, proving that my initial loss was merely a fluke.

Shortly after our second match where i made him cum with my feet Keith decided to challenge me again. Seeing no harm in beating him again I accepted and once again we had a match on our hands. Like last time I wasted no time taking control, only this time in addition to various submission holds I also teased and tormented him using the same move that beat him last time, all with a grin on my face. Despite that he did manage to mount some offense as we went back and forth trapping the other in moves to get the other to tap out. There were some close calls for both of us as we were both pushing each other closer and closer to the edge, whether that be tapping out or making the other cum first. I again went in and began rubbing his crotch with my foot, teasing and showing that he couldn't beat me. By this point I was getting annoyed by how long the match had gone on for, and with him on his back and me sitting on his chest I gave him a choice, cum in my mouth as I sucked his cock to finish him, or have me smother him with my ass and tease his cock until he couldn't hold it any longer. With him not choosing I chose for him, sitting my ass on his face, leaning down and after some intense teasing (and really bad rolls on his part) he finally let go, cumming for me and once again showing that I was the better fighter.

once again Keith and I set up another match, really just him wanting revenge for me beating him last time. So of course I accepted, knowing I was confident I could beat him again. This match a small bit more back and forth at the beginning but me still keeping most of the offense, so much in fact that I made the bonus bet that if he beat me I would join him in his frat house (guess there was some roleplay needed, simple sorority vs frat house stuff) and let the entire house have there way with me. Unsurprisingly that got him going a bit more and finally things became a bit more evenly matched. So much so in fact it would take some time before either of us were put in a precarious situation. After some time he would hold me down and give me no other choice but to tap out, leading to the first "sort of loss" of the match. By this point I was getting a little worried, tossing him out of the ring to buy me some time, but never long enough it seems as he would keep coming back in a diving head first into my pussy, which was only barely holding on from cumming by this point. After trying to toss him out of the ring once again by this point I was failing to even stand, and once he noticed he quickly rushed back in and went right back to eating my pussy, leading me to finally run out of strength as I came, losing the fight despite being so confident in winning.

Gia (jasmine's love) : Through some discussion in chat about fighting each other (plenty of smack talk was used) we agreed to a match in the ring to decide who was the real slut between the two of us (spoiler it wasn't me...). We started with plenty of back and forth as you would expect in the ring with Gia going for a more pain focused route and me going for a more teasing based route. Eventually we both just kept going for the classic rub the persons pussy until they cum strat, getting us both closer and closer to cumming, but neither of us admitting defeat. Halfway through you locked in a backbreaker and I had no other choice but to tap out, not willing to give in I promised it would not happen again. After some more back and forth it was again pretty even, at least It was until I brought a "friend" in to fuck both holes at once that the first pivotal moment came up, getting her so close, right at the edge but she managed to hold off this time. I kept trying to fuck her into submission but she would not give in, even again catching me in a bad spot as she went to work eating my pussy as I ran out of energy, leaving me not choice but to cum. Now on the backfoot I was struggling to figure out a way to win, not wanting to submit and become her slut puppy, after some more back and forth I went for a gambit and sat on her face, hoping she would pass out before she could make me cum again. As she struggled and pleaded to make me get off her I stayed put, until she passed out under my admittedly wet pussy... so yeah despite most of the fight painting me as the slut... I was the one victorious, as it should be.

Jenny : So a rare wrestling match occurred when Jenny challenged not just me but my friend britany as well (play by me). She was feeling confident in her abilities to fuck both me and her to sleep, of course it being 2v1 I was confident even with Britany being a bit dumb and not that aware of the rules that I could beat her so I accepted the challenge. The match began with Jenny walking up and banging my and Britany's heads together, catching us both off guard. Despite moving to quickly take the upper hand Jenny showed her skills as she escapes and proceeded to daze Britany with a slam, taking her out of the match for a bit and making it a 1v1. Catching her off guard as Britany was playing opossum, we teamed up to strip her naked, smiling in our handiwork as we admired the view. Some more back and forth occur where Jenny is able to at least hold her own and defend herself against Brit and I and eventually locking in a double backbreaker submission on us, causing Britany to tap out quickly followed by me not long after. With that the rules state she has 60 seconds to do whatever she wants, and taking the time to attach a strap-on to Britany and herself, and then fucking Britany's ass while making Britany fuck me with the downward thrusts from her getting fucked. This would lead to me cumming on the bottom and getting sidelined for a bit as I recovered while Britany took on Jenny 1v1. Despite Britany trying her hardest to hold on the end came when she was fucked in wheelbarrow position in front of Morgan's still dazed body, and trying her best not to let her down ultimately failing as she too gave in and came from the fucking, ending the match with Jenny being the victor. There was some post match stuff but if you are reading this you will have to imagine what happened...

So after my first defeat to Jenny I was determined to get my revenge, and lucky for me she was more then happy to take the challenge and even fight 2v1 again. I felt confident I could beat her this time seeing as it was a good old classic match, and britany is a bit more in tune with simple teasing and fucking then wrestling. AS we start off she quickly revealed a hidden plan as she apparently switched our panties with vibrating ones, setting the tone as she laughed at us struggling around. Though we did quickly bounce back, using our numbers advantage to quickly take her clothes off, then things get crazy with strapons and clothes flying everywhere. She tried to get a cheeky hypno on Britany while I was on the ground, getting it and handing Brit a dildo and telling her to fuck my ass with it, though lucky for me she snapped out of it and took the time to fuck Jenny's ass instead. After some back and forth and Jenny focusing hard on my ass and having brit subdued with nipple clamps I was pushed over the edge and came, dazed as she shoved a vibrator into my ass and left it there as she moved to focus on Britany. With me out of the way Jenny and Britany battled it out, going back and forth until Jenny got a system going, fucking Brit hard right in front of me, taunting her to cum, and though she was able to hold on for that she was running out of time. Shortly after returning to the fucking and making Brit cum now, though not enough to leave her passed out in pleasure. By this point I finally wake from the daze and with the help of Britany we team up and make Jenny fuck Britany as I hold her in place thinking we had the win in sight. But even that was not good enough as she got out of it, though shortly after and with a bit of hypno I did make her finally cum, but not taking her out of the match yet. With all three of us exhausted the next move could very well end it, Brit and I lunged at Jenny, though she countered it and after some wrestling around had Brit on top of me in 69, grabbing mine and Brits head and making us eat each other out, with nowhere to run and no energy left Both Brit and I would cum together, ending the match and again being defeated by Jenny.

Not wanting to give up and still confident I could win I challenged Jenny again but this time to simply a 1v1 match, claiming Brittany was the reason for my earlier defeats. Of course having two wins over me Jenny had plenty of confidence that she would win again so accepted the challenge. The match quickly started with me trying to go for the early pressure, but every time I did she had a counter, usually resulting in me being slammed into the mat, leaving me dazed each time. However after one of her slams my face suddenly was smushed into someones ass as Jenny held me down, as none other then Brittany herself came out of nowhere, hearing about me blaming her for the losses. The combined effort almost ending it there for me but I managed to pull free, unsure what was happening. Some more back and forth happened with me always looking outside the ring to see what Brittany was doing, but Jenny always had a counter to everything I did. Eventually she managed to grab a strapon (no doubt handed to her by brit) as she then proceeded to fuck me prone, not stopping as I flailed and squirmed, trying to both break free and not cum. By this point Brit made her way back into the ring and was siding with Jenny, smothering me while i got fucked hard and deep, and then offering her my ass, which Jenny wasted no time taking, as she managed to fuck me even harder in the ass. By this point I was struggling to hold the edge any longer, and after some failed attempts to push her away she finally pushed me over the edge, the final image I had was Brit grinning back at me as I finally got fucked to completion, losing once again.

Disha : So after the usual back and forth banter I have with most people on here we finally had time to actually have the match. It all began with Disha making a bold open challenge in the ring, which I overheard and proceeded to make my way into the ring where I called her out for not being good enough to be going around making open challenges. I decided to take her challenge and fight her, and at first we started pretty even with her maybe being a bit better. After the initial back and forth where I was taking the more teasing route with her taking the more physical route, we both ended up with our lower half naked, her panties in her mouth and mine on the mat. At this point I decided to up the ante and shove her face into my ass, making her worship me as I teased her. Despite her occasional attempt to fight back it was around this time where it was starting to become clear that she was not the superior one in the ring, as I continued my assault, tackling her, teasing her, a couple punches thrown in for added measure. By this point I was really just toying with her, and finally pulled out the strap-on to really seal the deal, fucking her to her first of many orgasms. After asking her if she wanted to submit she denied and I proceeded to hold her down and eat her out to another orgasm. Again offering her a way out she was determined to not say it so I again got to work, this time fingering her to an orgasm. This time she finally started tapping out, but at this point I wanted one last orgasm out of her, so i fingered her to the edge a couple times and finally finished her off with a vibrator, cementing my victory with a dominant display.

Linlin Mira : So a bit of a change from the typical sexfighting Linlin and I decided to duke things out for a spot on a cheer team. Of course this wouldnt be erofights if sex wasnt involved so it was decided by the cheer team that whoever won would get the last spot on the team. With both of us vying for the spot we wasted no time, teasing and playing with eachother as we begin getting warmed up. As this started to grow in intensity more people began to show up to watch, only making the stakes that much higher as neither of us wanted to cum in front of a crowd of people. Things started to heat up as we eventually ended up naked, and the fucking really started to make progress, as she began to fuck me hard and fast, catching me off guard and definitely not making things easy for me. But I was not pulling any punches, making my presence known by stroking, sucking and even fucking her as well. The first real test came when I strapped up and began fucking her ass in front of the growing crowd, smiling as she moaned for everyone, leading to the first orgasm of the match. thinking it would be easy pickings I lowered my guard, which would cost me as she wasted no time tying me up in a hogtie position and strapping a vibe to my pussy, and no matter how I struggled and squirmed the vibe was always there always buzzing, leading me to cum shortly after her. By this point I was struggling to stand, horny as hell, and knowing that Linlin went in with the goal of not only winning but trying to make me cum in the most humiliating ways she could think of. Now using her feet to rub my now dripping pussy, I groaned and moaned as I managed to escape her first attempt and making me cum with her feet. Around this point both of us are one bad situation from cumming and losing the match, as Lin goes all in, fucking me as she shows off my face to the ground, which by this point is fully invested in watching another orgasm. Luckily I again just manage to escape but not wasting any time Lin got up and began rubbing my pussy with her foot again. By this point I was exhausted, and had been holding on the edge for quite some time, and with no fight left I was brought to orgasm by Lin rubbing my pussy with her foot in front of a crowd of people, definitely not one of my prouder moments... But as consolation I was made into the cheer teams pleasure mascot... so thats something I guess....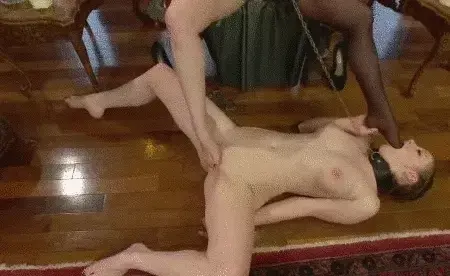 Slash: Slash and I have chatted a few times before but it wasn't until now that we finally got together for a match. We decided to spice things up by making the match public, but other then that a typical match match. The match started with some pretty even back and forth, slowly stripping each other naked, all while a small crowd of people watched on. We would at the beginning go blow for blow, if one of us shoved a cock in the other persons mouth the other would do the same right after. sucking and fucking each other as we kept pushing each other forward. Around this time is when Olivia would enter the chat, actively rooting against me as Slash took the time to hypnotize me into fingering myself, and catching me off guard I was quickly unable to control myself as I made myself cum, must to my frustration when I came too again and realized what had happened. At this point in the match it seemed like many of the people watching were actively wanting me to cum again for there amusement, Slash taking it all in as she would fuck me and toss me around, countering anything I did to try and retake control. The end of the match was a combo move, Slash putting me back under a hypno, egging me on as she fucked me in front of the crowd, and when she finally had enough she went for the kill by tying me spread out on the bed, and binding a vibrator touching my pussy, cranking it to max and sitting back as the crowd cried out, begging me to cum for them all, and by that point I had no stamina left to hold on, leading to me cumming in front of them all again and losing the match. That would normally be the end but things quickly picked up after and Slash and Olivia would both keep pushing, leading to a brief little threesome before everyone went there separate ways.

Olivia: So let me start this by saying this match was a bit more unorthodox about how it came to be, and as mentioned in the fight with Slash, Olivia here basically came in wanting to see me lose, and after my terrible luck and losing against Slash, both Slash and her would work together in a quick impromptu threesome. That quickly led to Olivia and I having a match of our own after, where I was determined to show her whos boss. As the match, which was not far removed from the match with Slash in time, got started the back and forth began, though quickly she wasted no time and within a few minutes had already had me stripped naked. I would try to assert control by making her eat me out in a more commanding way, but she would quickly get away and pull out what I can only say were the most indestructible cuffs I have ever seen, and with my arms cuffed together she would take her time asserting dominance over me, making me crawl around, shoving a massive dildo into my ass, continuing to make my ass gape all while I tried to struggle out of the cuffs. Eventually breaking free of them, and making our way to the shower, where we would begin really pushing each other to the edge, fighting for dominance as we ate each other out. As we were leaving the shower, on the floor panting from the intensity, she would take the moment to go in for an orgasm, sitting on my face and fingering and rubbing me mercilessly, leaving me no choice but to cum from under her. This would be around the point in the match where no matter what I did I was never going to be able to push back enough to win, with Olivia sitting on my face fully, taking my breath away as she teased and taunted me to make her cum. As I started running out of air I went for it and ate her pussy the best I could, making her cum and tying the game, but more importantly getting her off of me so I could catch my breath. I would try to mount a comeback and try to roughly fuck her, and while it did make a small impact, it was far to late as she quickly tossed me off her, bound me spread out on the bed and held a vibe on high against my clit, as despite my best efforts to avoid it, I eventually came again, nowhere to run to avoid the wand as I lay there bound to the bed. Leaving me tied up she would cuddle next to me, teasing me about how i lost and how she barely even tried. I had had enough and challenged her again, expecting her to at least untie me, of course she accepted and laughed as she looked at me, telling me i wasn't getting untied. she would then slide under and fuck me full nelson, again teasing into my ear as i helplessly took the pounding. Just as I was finally able to pull free she would hypnotize me, and begin to really push me into being her slut. And let me tell you this was now going on 5+ hours between the game with Slash and her, leaving my mind mush and my pussy swollen from the pleasure, and she knew it as she made me do everything, making me ride her strap and moan for her, again fucking me full nelson, tying me up again and with a massive grin on her face decided to put an end to it, rubbing my pussy hard and fast as she rubbed my to another orgasm, humiliating me in the process and firmly making me a slut for her.

Edge Queen: Theres a lot to discuss here so I wont waste much time, basically for a couple weeks the two of us were chatting away, taunting and teasing each other thinking we could both outlast the other in terms of edging. Eventually this would of course lead to a match where every action involving touching pussy would lead to the person having to edge. Thinking she wouldnt stoop to the level of stealing clothes i would quickly shower to get ready, and upon getting out they were gone, much to my frustration. What followed was me being put on the backfoot trying to strip her down while she had full access to my pussy, getting a good few edges on me before I could even make the attempt at her. Eventually I had finally finished stripping her naked, evening things a little though already several edges ahead of her so I began getting to work trying to catch up. She would of course waste little time by that point pulling out a sizable dildo to use, getting a few more edges out of me, but also giving me a weapon to get some out of her as well. Trying to fight her off again and again, and just when I think I have control she would slide out and go right back to touching me. Around this point in the match the cum tests were active, and every one being d6 edges before testing, and she would unfortunately be the first to use one, bringing me to 16 edges and with little energy left to hold on I give in and finally cum, losing the match. I will get my revenge on her some day, once she stops testing my ability to edge again and again that is...

Conclusion:
to conclude my profile, ask yourself this question. by the end of the match/scene, will you have made me look like this:

or... will you be looking like this by the end: